Moscow asks UN to intervene in journalist's prosecution in EU country
The allegations against Sputnik's Marat Kasem in Latvia are "absurd," officials claim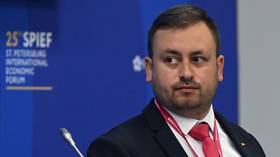 Latvia's arrest of Marat Kasem, a journalist working for the Russian news network Sputnik, is an attack on freedom of speech, Tatyana Moskalkova, Russia's top human rights official, has said. She asked the UN to intervene in the matter.
The editor-in-chief of Sputnik's Lithuanian branch, Kasem was detained in Riga, the capital of neighboring Latvia. According to Latvia's State Security Service (VDD), the journalist is suspected of "cooperation with [a] Kremlin propaganda resource subjected to sanctions." Kasem was taken into custody on a court order, his lawyer announced on Thursday.
The journalist is a Latvian citizen but has lived in Moscow for several years and has been working for the Russian state-funded Rossiya Segodnya media group, which Sputnik Lithuania is part of.
"I view the criminal [prosecution] of Marat Kasem as an encroachment on freedom of speech and a violation of Latvia's international commitments to protect the rights of journalists," Moskalkova wrote on her Telegram channel.
I urge the UN High Commissioner for Human Rights to take a look at this outrageous fact and act in accordance with their mandate to defend the rights of Marat Kasem.
Russia's Council of Human Rights, a presidential advisory body, released a statement calling the case against Kasem "far-fetched and absurd." It asked the UN, the Organization for Security and Co-operation in Europe, and the Council of Europe to intervene, accusing Riga of "prosecuting Russian journalists."
In 2014, after Crimea voted to leave Ukraine and join Russia, the EU blacklisted Rossiya Segodnya Director Dmitry Kiselyov for "supporting the deployment of Russian forces in Ukraine." In 2020, the Latvian authorities launched criminal proceedings against several journalists working for Sputnik and another Russia-linked website, Baltnews, on suspicions of violating the sanctions.
The EU banned Sputnik last year in response to Russia's military operation in Ukraine launched in late February.
You can share this story on social media: