Arrest of Russian outlet's journalist is blow to press freedom – Moscow
Russia called on international bodies to condemn the mistreatment of Marat Kasem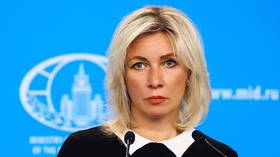 The arrest of Sputnik Lithuania's editor-in-chief is a violation of international norms of freedom of speech and the rights of journalists, Russian Foreign Ministry spokeswoman Maria Zakharova said on Thursday. She called on international organizations to react appropriately to Latvia's "overreach" in arresting Marat Kasem.
"Riga has once again demonstrated that for it such values of a democratic society as media pluralism and the rights of journalists are nothing more than empty phrases," Zakharova said in a statement.
Earlier, the spokeswoman shared a video on her Telegram channel of Kasem speaking about the problems he was facing, noting that he had complained for years about pressure and mistreatment at the hands of governments in the Baltic states. All the international organizations concerned with freedom of speech, who spent years ignoring Kasem's safety concerns, should "finally justify their existence" and intervene, Zakharova argued.
"It is not just a duty, but an obligation of the international community to do everything so these overreaching regimes would return to following the law," she said.
Kasem is a Latvian citizen, but has lived and worked in Moscow for the past several years. He returned to Latvia on family business just before New Year's Eve. On Thursday, the authorities in Riga ordered his arrest and reportedly charged him with espionage and violating EU sanctions against Russia. If convicted, he faces up to 20 years behind bars.
His lawyer has not yet been given the case files, and her request to release Kasem on bail has been denied. He is currently being held in Riga's Central jail.
Moscow has complained about the ongoing persecution of several journalists in Baltic states back in 2021, prior to the conflict in Ukraine escalating. Kasem had been detained in Vilnius and deported from Lithuania as a "threat to national security" in 2019. His colleague Valentin Rozentsov, editor-in-chief of Sputnik Latvia, was detained and interrogated in Riga in 2018.
The former Soviet republics have adopted a hardline stance on the conflict in Ukraine. Just last month, Latvia, Lithuania, and Estonia protested French President Emmanuel Macron's proposal to offer Russia security guarantees, and demanded no exemptions on the ban on Russian fertilizer exports, despite EU concerns about potential famine in Africa.
You can share this story on social media: