Editor-in-chief of Russian news outlet arrested in Latvia
Marat Kasem from Sputnik Lithuania has been reportedly accused of espionage and could face up to 20 years behind bars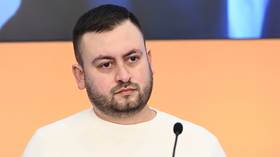 Latvia has arrested the editor-in-chief of the Lithuanian branch of the Russian news agency, Sputnik. Marat Kasem was taken into custody on a court order, his lawyer announced on Thursday.
The journalist is accused of breaching EU sanctions and has been charged with espionage, Sputnik reports.
Kasem's lawyer, Imma Jansone, has not yet been able to review his case materials, according to the news outlet. Jansone asked the court to release the journalist on bail but a judge decided to keep him in custody. Kasem was immediately transferred to Riga's central jail on Thursday.
Kasem is a Latvian citizen, though he has been living in Moscow for several years, working for the Rossiya Segodnya media group, which Sputnik Lithuania is part of. He returned to Latvia for family reasons before New Year's eve.
Russian Foreign Ministry spokeswoman Maria Zakharova slammed the move as a violation of Latvia's international commitments regarding freedom of speech, adding that Moscow will request the assistance of international organizations over Kasem's arrest.
Speaking to RIA Novosti news agency, the head of Rossiya Segodnya media group, Dmitry Kiselyov, said Kasem's arrest was "absurd" and "lawless." He also called these types of actions a "dangerous tendency" that affects all of the EU. Kiselyov added that Kasem had frequently spoken of having a feeling of being politically persecuted.
Kasem had already faced persecution in the Baltic states before his arrest. In 2019, he was detained upon arrival at Vilnius Airport and labeled "a threat to the national security" of Lithuania. He was then deported to Latvia. At the time, it was revealed that the journalist had been placed on a blacklist of people barred from entering Lithuania.
In 2018, Russian journalist, Sputnik Latvia's editor-in-chief, Valentin Rozentsov, was detained at Riga Airport. He was held in police custody and interrogated for 12 hours before being released. In 2021, Moscow slammed the persecution of Russian journalists in the Baltic states as a "flagrant attack on democracy," saying it considered what it called a degradation of media freedoms there "concerning."
The developments come as the three Baltic nations maintain hardline stances on Moscow's actions amid the conflict in Ukraine. Last month, Latvia, Lithuania, Estonia, as well as Poland and Slovakia, all lodged a formal protest against French President Emmanuel Macron's proposal that NATO should offer Russia security guarantees, according to Reuters.
You can share this story on social media: