Russian forces withdraw from key Donbass town
Troops left Krasny Liman due to the threat of encirclement, Moscow has confirmed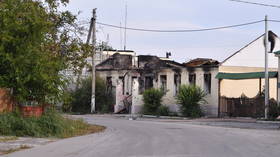 Russian troops and Donbass forces have withdrawn from their defensive positions in the town of Krasny Liman, the Russian Defense Ministry confirmed in a statement on Saturday.
The move came as Ukrainian forces mounted a large-scale offensive targeting the area.
Earlier, the head of the Donetsk People's Republic (DPR), Denis Pushilin, called the situation in the settlement "alarming," saying it had been "half-encircled" by Ukrainian troops.
"Due to the emerging threat of encirclement, the allied troops have withdrawn from the settlement of Krasny Liman and deployed to more advantageous positions," the ministry said in a statement. The Ukrainian forces lost more than 200 soldiers as well as five tanks and five infantry fighting vehicles during the attack on Krasny Liman, the military added.
Despite the losses, the Ukrainian command sent in reserves and reached "considerable superiority in men and material" in the direction of the attack, the Russian ministry said.
A representative of the Ukrainian operational command 'East', Sergey Cherevaty, told the Ukrainian media that the Russian forces in Krasny Liman had been "encircled." He also said that the Ukrainian troops had seized five settlements near Krasny Liman, including the town of Yampol, which is located to the southeast.
Pushilin earlier said that the DPR had lost full control of the towns of Yampol and Drobyshevo, while the Ukrainians were shelling the supply route between Krasny Liman and a major Russian logistics base in the town of Svatovo.
Krasny Liman, renamed Lyman by Ukraine in 2016, was seized by Russian and Donbass forces in late May. The town is located on the DPR's northern edge not far from Ukraine's Kharkov Region, the eastern part of which was captured by Ukrainian troops in early September.
The news came a day after Russian President Vladimir Putin signed treaties on the accession of the DPR and neighboring Lugansk People's Republic (LPR) into Russia. The president also signed agreements on the accession of the Russian-held Kherson and Zaporozhye Regions, which declared independence from Ukraine. The four territories overwhelmingly voted in favor of joining Russia in referendums held between September 23 and 27.
Ukraine and the Western nations refused to recognize the results of the referendums.
The developments also come after Putin announced a partial mobilization aimed at calling some 300,000 reservists to arms, most of whom are yet to be sent to the regions.
You can share this story on social media: