Second round of Russian-Ukrainian peace negotiations commence
The two sides met earlier this week on the Ukrainian-Belarusian border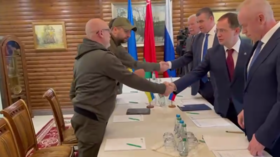 The second round of peace talks between representatives from Kiev and Moscow has kicked off in Belarus as Russia's armed forces continue to attack Ukraine.
On Thursday, the head of the Servant of the People party in Ukraine's parliament, David Arakhamia, revealed that discussions were due to take place shortly.
Arakhamia, who is serving as a member of Ukraine's delegation during the peace discussions, issued a statement detailing what Kiev is intending to achieve from the negotiations with Moscow.
According to him, the "minimum" Ukraine is seeking to gain from the crunch talks is the guarantee of humanitarian corridors, while everything else "depends on the circumstances."
Moscow's chief negotiator, Vladimir Medinsky, said on Wednesday that the two sides will discuss a ceasefire during their talks in Belovezhskaya Pushcha near the Polish-Belarusian border.
Representatives from Kiev and Moscow first met for five hours on Monday in Gomel Region, Belarus. Initially, Kiev rejected a proposal for the talks to be hosted in the former Soviet republic, accusing Minsk of supporting Russia's incursion.
Ukrainian President Volodymyr Zelensky expressed dissatisfaction with the first round of the peace talks, insisting that "so far, we do not have the result that we would like to achieve."
"Russia stated its position. We voiced our counterarguments [on how to] end the war. We received some signals. When the delegation returns to Kiev, we will analyze what we have heard and then we will decide how to proceed to the second round of negotiations," he said.
Russian President Vladimir Putin ordered the invasion of Ukraine last Thursday following requests from the leaders of the recently recognized Donetsk (DPR) and Lugansk (DPR) People's Republics for "help in repelling the Ukrainian military aggression."
Putin insisted that there are no plans to occupy the former Soviet republic's territory, arguing that the objective of the attack is the"demilitarization" and "denazification" of its neighbor.
You can share this story on social media: