US announces sanctions on Russian defense firms
New round of sanctions also extends export controls to Belarus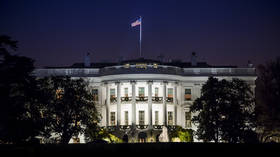 The White House has placed blocking sanctions on 22 Russian defense companies and extended export controls to tech exports that support oil refining, the administration revealed on Wednesday. The latest round of sanctions also expands the export controls already placed on Russia to include Belarus, which Washington has accused of "enabling Putin's invasion of Ukraine."
The extension of export controls is designed to "prevent diversion of items, technologies, and software through Belarus to Russia," a fact sheet released by the White House explains, reasoning such a blockade will "severely limit" the ability of Russia and Belarus to "support their military aggression against Ukraine."
Full blocking sanctions are being imposed on 22 Russian defense entities so as to "further restrict Putin's war machine," according to the release, which cites firms that make combat aircraft, infantry fighting vehicles, electronic warfare systems, missiles, and drones for the Russian military.
Additionally, Russian planes are to be barred from American airspace, adding to the existing EU-wide ban on Russian flyovers. The comprehensive ban includes any aircraft certified, operated, registered or controlled by "any person connected with Russia," a descriptor the White House did not elaborate on.
The sanctions include export controls targeting oil refining, which the White House refers to as a "key revenue source that supports Russian military," admitting that the US and its allies "share a strong interest in degrading Russia's status as a leading energy supplier over time."
Further expanding the list of affected companies, the Commerce Department plans to add any entities that have "been involved in, contributed to, or otherwise supported the Russian and Belarusian security services, military and defense sectors, and/or military and defense research and development efforts" to its Entity List, prohibiting them from doing business with US companies.
The administration bragged that it had made Russia a "global economic and financial pariah" by pushing "over 30 countries representing well over half the world's economy" to slap their own sanctions and export controls on Moscow, declaring it was "preventing Putin from accessing his war chest to soften the blow of our actions and support his invasion of Ukraine." The US and its allies were seizing Russian assets around the world to accomplish this, the fact sheet explained.
You can share this story on social media: