Spain U-turns on supplying offensive weapons to Ukraine
Madrid follows Berlin in reversing course and deciding to send arms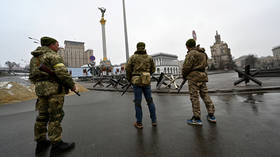 Spain is to join several other EU nations and send offensive weapons to Ukraine amid the Russian invasion, Spanish Prime Minister Pedro Sanchez said on Wednesday, breaking with his earlier statements. Previously, Madrid had contributed only defensive supplies.
"I announce that Spain will deliver offensive military material to the Ukrainian resistance," Sanchez told the Spanish parliament. He didn't specify the types of weaponry it would provide.
"To a European threat, we must give a European – coordinated and united – response," the PM said, explaining his decision.
The move was also a response to his critics, who had questioned his government's commitment to the Ukrainian people, he added.
As recent as Monday, Sanchez had assured state-run broadcaster TVE that Spain would not be sending offensive weapons direct to Ukraine. He said his country would instead offer assistance through the European Peace Facility, which had earlier decided to allocate €500 million to arming Kiev. As of last week, Madrid had supplied 20 tons of protective military gear and humanitarian aid.
Spain had initially planned only to supply defensive weapons to Ukraine, but even this idea was vigorously opposed by the left-wing United We Can group, which is a minority partner in the coalition government.
A similar U-turn had already been enacted in Germany. Despite previously ruling out the delivery of lethal arms to Kiev, Berlin has since provided it with anti-tank missiles and Stinger air defense systems.
More than a dozen countries have now supplied some form of military aid to Ukraine. They include the US, the UK, and Canada, as well as several EU member states, among them France, Portugal, Belgium, and the Czech Republic.
Russian troops were sent into Ukraine last Thursday as part of what the Kremlin called a "special operation" to demilitarize and "denazify" the Ukraine government, which it said was responsible for "genocide" in the breakaway regions of Donetsk and Lugansk. Kiev has described the actions by Moscow as an unprovoked invasion, and urged the West to increase its sanctions on Russia.
You can share this story on social media: