China reveals its stance on Russian operation in Ukraine
Beijing has said it "respects" Moscow's actions amid "crisis"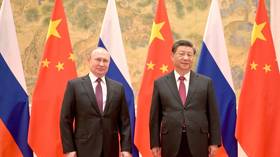 Beijing "respects" the actions of the Russian government amid the "ongoing crisis situation" in Ukraine, China's President Xi Jinping told President Vladimir Putin during a phone call on Friday, the Kremlin has said.
The Russian president has "thoroughly informed" the Chinese leader about the reasons that prompted Putin to launch a military operation in Ukraine, the Kremlin said in a statement, adding that Moscow was also ready to send a delegation to Minsk to start talks with Ukrainian officials.
The two leaders shared their assessments of the situation on the international arena and agreed to further "closely coordinate" their actions and support each other in the United Nations and on other international platforms, the statement has said. The two also slammed "illegitimate sanctions used by certain nations in their own selfish interests" by calling such actions "unacceptable."
Putin and Xi have also agreed it was important to further enhance "practical bilateral cooperation." The phone call came a day after Russia launched its operation in Ukraine, which Putin said sought to "demilitarize" and "denazify" Ukraine.
On Thursday, Beijing blamed the US for stirring up tensions that prompted Russia to launch its military operation and urged the international community to avoid "stoking panic" over the situation. China's reaction drew criticism from Washington as the US President Joe Biden said that Beijing's reputation would be "stained by association" for failing to denounce Russia's actions.
China hit back on Friday by saying that it is the nations that meddle in other states' affairs that would have their reputations stained. It also said that it understood Moscow's "legitimate" security concerns.
You can share this story on social media: