China denies being 'stained by association' with Russia
Beijing instead said countries that meddle in others' domestic affairs are the ones whose reputations are tarnished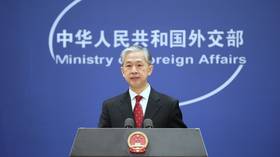 The Chinese foreign ministry on Friday denied US President Joe Biden's suggestions that the country is somehow "stained by association" for failing to denounce Russia over its massive assault on neighboring Ukraine.
Ministry spokesman Wang Wenbin told reporters at a daily briefing in Beijing that it was countries that interfered in the domestic affairs of others that would see their reputations stained, refuting Biden's comments the previous day on the issue.
The US leader had said that any country that backed Russia's invasion would be "stained by association."
The remarks also appeared to be aimed at India and Pakistan. Pakistan's Prime Minister Imran Khan was in Moscow as the Kremlin launched the military attack on Ukraine and attended meetings on Thursday aimed at getting Russia to invest in a stalled gas pipeline.
Wang also claimed that Beijing understood the "legitimate" security concerns which prompted Russian President Vladimir Putin to attack its neighbor, while refusing to label the movement of Russian forces into Ukraine as an "invasion."
On Thursday, Russia launched a full-scale military attack against Ukraine. The move came days after Moscow formally recognized the independence of the Donetsk and Lugansk breakaway republics in the Donbass, alleging Kiev failed in its obligations under the Minsk agreements struck in 2014 and 2015 to resolve conflict between separatists and the Ukrainian government.
You can share this story on social media: