Zelensky says he is Russia's 'number-one target'
The Ukrainian president has said that Moscow wants to destroy his country politically "by destroying the head of state"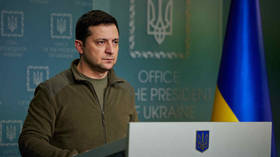 The Ukrainian president Volodymyr Zelensky has said that Russia has marked him as its number-one target in order "to politically destroy Ukraine."
In his evening address after the first day of Russia's attack on Ukraine on Thursday, Zelensky called on his nation not to believe "fakes" about his alleged departure from Kiev. He said that he was in Kiev conducting dozens of international negotiations and directly leading the defense.
The president confirmed that his family also remained in Ukraine, though he said he had "no right" to disclose their whereabouts.
"According to our information, the enemy marked me as the number-one target. My family is the number-two goal. They want to politically destroy Ukraine by destroying the head of state," Zelensky said.
On Friday morning, an aide to the head of the president's office, Mikhail Podolyak, confirmed that Zelensky remained in Kiev. He said the president was demonstrating what he meant by the "resilience of the Ukrainian people."
UK Prime Minister Boris Johnson and French Foreign Minister Jean-Yves Le Drian said earlier that their countries would take measures to ensure Zelensky's safety if such a necessity arose. Johnson went still further, saying the UK would back the Ukrainian government if it were forced into exile.
Moscow launched a military attack against Ukraine on Thursday with the stated goal of demilitarizing it. The offensive has prompted an international outcry and the imposition of new sanctions by the US, the EU, the UK, and a number of other countries.
You can share this story on social media: