Ukraine asks for anti-war coalition with Eastern European nations
President Zelensky appealed to Poland and others for help in putting pressure on Russia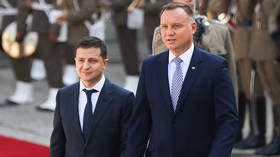 President Volodymyr Zelensky of Ukraine has talked with his Polish counterpart, Andrzej Duda, he tweeted on Friday morning. Poland and other members of the Bucharest Nine group of nations could help Ukraine by providing "defense aid, sanctions, [and] pressure on the aggressor," he said, referring to Russia.
"Together we have to put Russia at the negotiating table. We need anti-war coalition," the tweet said.
Duda confirmed the call, tweeting that, according to Zelensky, the situation in the Ukrainian capital, Kiev, was "very difficult." He relayed Ukrainian claims that Russia was dropping bombs on residential areas in Kiev with a presumed goal of demoralizing the population.
Russia has denied that its military is targeting anything but Ukrainian military facilities and forces. It has appealed to Ukrainian regular troops, asking them to lay down their arms and "go home."
Moscow launched an attack against Ukraine on Thursday with the stated goal of demilitarizing it and undermining the sway that "Nazi" elements have in the country.
In addition to Poland, the Bucharest Nine includes Bulgaria, the Czech Republic, Estonia, Hungary, Latvia, Lithuania, Romania, and Slovakia.
You can share this story on social media: