Putin tells Ukrainian military to 'take power into their hands'
The Russian president suggests it would be "easier" to negotiate with the Ukrainian Army than with politicians in Kiev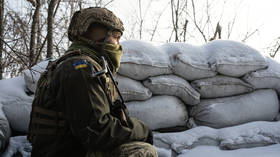 Ukraine's Armed Forces should "take power" in the country and negotiate peace with Moscow, President Vladimir Putin said during a Russian Security Council meeting on Friday. He also accused the Kiev government and "neo-Nazis" of using civilians as "human shields" amid Russia's offensive in Ukraine.
Putin said the Ukrainian military must not allow their government to use their "children, wives and loved ones as human shields" – tactics he insisted Kiev was using during Moscow's military operation.
"Take the power into your own hands!" the Russian president said, arguing that the army would be a better negotiating partner than "a bunch of drug addicts and neo-Nazis" who he claimed have "entrenched themselves in Kiev," and have been holding the people "hostage."
Earlier on Friday, both Moscow and Kiev expressed some readiness to engage in peace talks. However, fighting in Ukraine has continued despite these statements. The Kremlin says it suggested the Belarusian capital of Minsk as the site for talks, but Ukraine declined and said it should be Poland's Warsaw. However, Moscow claims that Kiev then cut communications altogether, while ordering military units to take positions in densely populated areas of the Ukrainian capital, according to Kremlin spokesman Dmitry Peskov.
Putin announced the start of a military operation in Ukraine early on Thursday, claiming it was the only option left for defending the Donbass people from an imminent attack and insisting it was aimed at the "demilitarization" and "denazification" of Ukraine. Kiev and its Western allies have described the offensive as an "unprovoked" attack. The Russian Defense Ministry has said that only military targets are being hit across the country.
You can share this story on social media: