Russia ready to start talks on Ukraine
Kremlin can dispatch a delegation representing military and civilian sections of government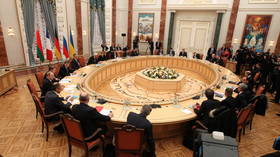 Demilitarization and "denazification" of Ukraine, as demanded by Russian President Putin, are inherent to Ukraine's neutral status, Moscow said. The Russian government is ready to send a delegation to negotiate this, Kremlin spokesman Dmitry Peskov said on Friday.
Ukraine's President Vlolodymyr Zelensky said he is "ready to discuss the neutral status of Ukraine," Peskov said. Peskov said. Putin had "said from the start that the goal of the military operation was helping [breakaway regions] LNR and DNR, including by demilitarizing and denazifying Ukraine. Those are essential parts of a neutral status," he also pointed out.
The Russian delegation would include military and civilian officials representing various branches of the government, the spokesman said.
Belarus, a military ally of Russia, earlier said it was prepared to host peace talks between Russia and Ukraine.
Moscow launched a full-scale military attack against Ukraine on Thursday morning. The stated goal of the operation is to demilitarize the country and to quash radical forces, which had infiltrated some parts of the Ukrainian military and law enforcement.
Putin claimed military action was necessary to ensure that Russia is not put under threat by NATO from Ukrainian territory, and to stop Ukrainian attacks on the Donetsk and Lugansk People's Republics, which Peskov called by their acronyms, DPR and LPR. Moscow recognized their independence from Ukraine on Monday.
You can share this story on social media: