Ukraine removes age restriction to join army
Previously only citizens aged between 18 and 60 were permitted to join the military ranks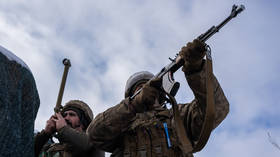 Ukraine has removed age restrictions and simplified its procedures for citizens to join the military, the country's Minister of Defense Alexey Reznikov said on Friday.
"I decided, in agreement with the Commander of the territorial defense of the Armed Forces of Ukraine, Brigadier General Yuri Galushkin, to involve in the territorial defense the Patriots over 60 years old," Reznikov said in a Facebook post, saying it applied to citizens who are "morally and physically ready to resist and defeat the enemy."
In a separate post, Brigadier General Yuri Galushkin said Ukraine "needs everybody today" and that all procedures to join the army had been simplified.
"You only need a passport and an identification code on you. No age restrictions. If you have troubles on the ground, refer to this official statement," he wrote.
Only citizens aged between 18 and 60 were previously eligible to join the army.
Russian President Vladimir Putin announced a "special military operation" in the early hours of Thursday morning which saw the Russian military attack Ukrainian military installations. Putin said the operation was aimed at the demilitarization and "denazification" of Ukraine.
The US, NATO and their allies have all introduced sanctions targeting Russian industries and government officials in response.
You can share this story on social media: