US Congress wants to expel Russia from UN Security Council – media
A proposition to oust Moscow for its attack on Ukraine is circulating among US lawmakers, Axios reports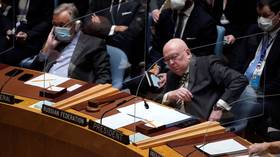 A resolution proposed by the US Congress calls for Russia to be ousted from the United Nations Security Council after its offensive in Ukraine. The call is being widely discussed by members of both political parties, political news portal Axios reported on Thursday night.
According to Axios, the resolution proposed on Thursday urged the UN to "take immediate procedural actions" and amend Article 23 of its charter, which defines the structure of the Security Council in order to remove Russia as a permanent member.
The resolution condemns the Russian military operation in Ukraine and its recognition of the breakaway regions in the Donbass, stating that these actions "pose a direct threat to international peace and security" and "run contrary to its responsibilities and obligations as a permanent member of the United Nations Security Council."
The resolution was proposed by Republican Claudia Tenney, a member of the House Foreign Affairs Committee, in coordination with a House Democrat.
"It's obviously a tall effort to kick Russia off," said Nick Stewart, Tenney's chief of staff, as quoted by Axios. "But, it's one diplomatic tool we have to up the pressure and increase the isolation."
"It's in a sense a messaging bill, but it also empowers our diplomatic counterparts," he added.
According to Stewart, the resolution was being passed to all House members of both parties. Several members have supported the idea, including Ann Wagner, the vice ranking member of the Foreign Affairs Committee, and Don Bacon, a member of the House Armed Services Committee, both members of the Republican Party.
Axios experts estimate that this resolution has little chance of being passed, since the UN Charter requires the approval of all permanent Security Council members to adopt any amendments, and Russia would be able to block any such move.
Russian President Vladimir Putin announced a "special military operation" on Thursday with a view to pursuing the demilitarization and "denazification" of Ukraine. The decision came days after Russia recognized the independence of the breakaway Donetsk (DPR) and Lugansk (LPR) People's Republics in the Donbass.
Ukraine, the United States, Canada, NATO, and the European Union, as well as other members of the international community, have all accused Russia of invading the country and have introduced sanctions targeting Russian industries and government officials.
You can share this story on social media: