Military cargo aircraft crashes in Russia's south
The plane's crew was killed in the crash, Russia's Defense Ministry has confirmed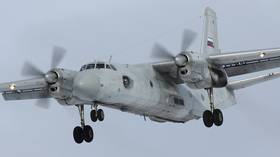 A Russian Antonov An-26 tactical transport aircraft has crashed in the southern region of Voronezh, the country's Defense Ministry has said.
"An An-26 aircraft of the Russian Aerospace Forces crashed during a scheduled flight to transport military equipment," the military said in a statement on Thursday.
The plane's crew was killed on impact, the military added, without specifying the number of casualties. Planes of this type usually have a flight crew of up to six members. According to preliminary information, the crash was caused by a "hardware malfunction."
Unverified footage circulating online shows the plane falling out of the sky in a flat spin. Photos from the crash site suggest the aircraft disintegrated on impact, with only its tail section staying intact.
Earlier in the day, the Russian military lost a Sukhoi Su-25 close air support plane amid its operation in neighboring Ukraine. The loss has been blamed on an error by the pilot, who managed to eject from the aircraft and was recovered afterwards.
An operation in Ukraine was launched by Moscow early on Thursday, with multiple military targets destroyed across the country. Moscow claimed the offensive was the only option left to stop the Kiev authorities from continuing their attacks on the breakaway republics of Donetsk and Lugansk, which split from Ukraine after the 2014 Maidan coup.
On Monday, Russia recognized the republics as independent states, signing bilateral agreements that, among other things, promised them military help upon request. The leaders of the Donbass republics asked for military assistance from Russia in the letters dated Tuesday.
The attack has drawn condemnation from the international community, including the UN, NATO, the EU, and the US, who have deemed the attack "unprovoked" and a violation of Ukraine's sovereignty. Since the operation was launched, the US, the UK and the EU have imposed a raft of sanctions on Russia, targeting high-profile officials and banking institutions, as well as the economy as a whole.
You can share this story on social media: