What does Russia's troop pullback mean?
Moscow's announcement that some troops are withdrawing from near the border with Ukraine has sparked a media storm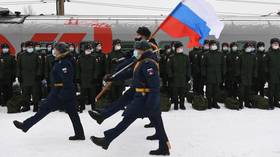 As Western leaders and pundits issued fresh warnings that a Russian invasion of Ukraine could take place at any moment, and a number of countries evacuated personnel from their embassies in Kiev, Moscow's Ministry of Defense announced on Tuesday that some of the forces it has deployed near the Ukrainian border have begun withdrawing to their bases. But is the pullback a sign that the months-long standoff could finally be winding down?
You can share this story on social media: