Belarus' Lukashenko discusses border crisis with Germany's Merkel – reports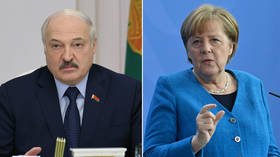 Belarus' President Alexander Lukashenko and outgoing German Chancellor Angela Merkel have discussed the refugee crisis on the Belarus-Poland border, on Monday evening, according to a Telegram channel linked to officials in Minsk.
The conversation was focused on the ongoing situation on the border between Belarus and two EU nations: Poland and Lithuania. The two leaders spoke for nearly an hour about ways to prevent potential escalation at the border, "First Pool," which is believed to be close to the Belarusian leader's press service, reported.
It marks the first known direct exchange between Lukashenko and a major Western political figure since summer 2020's disputed presidential election in Belarus. Since then, the West's elites have preferred to deal with exiled opposition figure Svetlana Tikhanovskaya, who claims she was the rightful winner of the contest.
Lukashenko and Merkel discussed how to resolve the crisis that has seen thousands of refugees, mostly from the Middle East, camping out at the Belarusian border and occasionally seeking to make their way into EU territory. Warsaw has sent additional troops to "defend" the border and requested assistance from NATO and the EU while blaming Minsk for the crisis it called part of Belarus' "hybrid war."
Lukashenko has repeatedly denied the accusations, arguing that his government is simply no longer capable of shielding the EU from the influx of migrants due to heavy sanctions the bloc imposed on the country.
However, Warsaw claims that Belarus has laid on flights from troubled destinations like Iraq and Iran and is shuttling them to the border as a form of "hybrid warfare." Poland also insists that Belarusian security forces are helping groups of migrants to make the crossing, and refusing to allow them to turn back.
Since the beginning of 2021, more than 23,000 people have tried to cross the Polish- Belarusian border, causing Warsaw to declare a state of emergency and boost its troop presence, as well as approving the construction of a fortified wall.
However, the UN's refugee rights watchdog has said the country is not doing enough to offer safety to those fleeing war and unrest, with several people understood to have died while sleeping rough close to the border.
Like this story? Share it with a friend!
You can share this story on social media: