Latest scientific discovery may lead to cure for Alzheimer's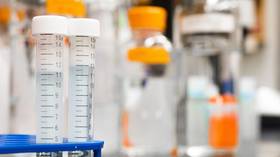 A team of scientists from the UK and Germany has managed to reverse memory loss in mice, and says the treatment could potentially lead to a breakthrough in fighting Alzheimer's disease.
Researchers used the "humanized" therapeutic antibody called TAP01_04, and the vaccine called TAPAS.
According to a study published in Molecular Psychiatry, both drugs triggered "a striking reduction" in the formation of harmful deposits of protein that prevents communication between neurons of the human brain.
Previous drugs for Alzheimer's have a similar mechanism, but have shown little success and have sometimes produced negative side effects.
One of the study's authors, Mark Carr, a professor from the Institute of Structural and Chemical Biology at the University of Leicester, said, "While the science is currently still at an early stage, if these results were to be replicated in human clinical trials, then it could be transformative."
The researchers are now looking for a commercial partner to run the antibody and the vaccine through clinical trials on humans.
Think your friends would be interested? Share this story!
You can share this story on social media: