Russian court finds American investor Calvey & business partner GUILTY of embezzling millions of dollars after high stakes trial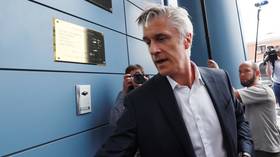 A court in Moscow on Thursday convicted US financier Michael Calvey of embezzling funds as part of a long-running and controversial court case that could see the billion-dollar investment fund director handed a stiff sentence.
The former head of Baring Vostok, a $3.7-billion investment firm he founded, Calvey was accused of overstating the value of an asset as part of a financial transaction and misappropriating funds worth 2.5 billion rubles ($34.2 million).
A judge at the Meshchansky Court in the Russian capital found him and his French business partner, Philip Delpalle, guilty of the charges in Thursday's hearing. Prosecutors are seeking a six-year suspended prison sentence for Calvey, and five years for Delpalle. Other members of the fund's top team are facing similar terms.
Also on rt.com
The Man with the Money: How Michael Calvey went from billion-dollar Moscow investor to facing years behind bars in a Russian jail
Calvey and his associates were arrested in February 2019 as part of a probe into financial wrongdoing. The executives have maintained their innocence and insist that the case was brought as part of a dispute with rivals.
In his final remarks in court last month, the businessman said that "the evidence that the prosecution presented to the court and that was examined during the trial not only does not incriminate me in any crime, but confirms my innocence and the innocence of my colleagues."
The case had garnered attention from across Russia's business community, with a number of corporate executives and officials stepping in to defend Calvey. The financier has sought to position the judgement as a watershed moment for investment in the country, and argued that a ruling in his favor would raise confidence regarding doing business in Moscow. "It would not be an exaggeration to say that such a positive decision by the court could bring Russia billions of dollars in new investments, adding thousands of jobs," he said in a statement prior to the court session.
According to Baring Vostok's figures, it has put more than $2.5 billion into mid-sized firms and startups, as well as investing in major domestic tech firms like Yandex. Moscow business daily Vedomosti previously described the financial firm as "the symbol of direct investment in Russia" and Calvey was a regular speaker at the influential St. Petersburg International Economic Forum.
You can share this story on social media: