Putin orders start of mass vaccination against Covid-19 in Russia, will begin NEXT WEEK with key workers given priority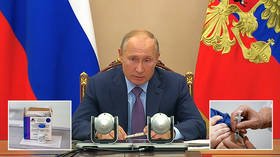 President Vladimir Putin has ordered the start of large scale vaccination against coronavirus in Russia, by the end of next week. Medics and teachers will be the first to get the shots and participation will be voluntary.
Russia's pharma industry is ready to meet the challenge, Putin said during a government teleconference, on Wednesday. He explained that the amount of doses of the pioneering 'Sputnik V' formula already produced will reach two million in the coming days,
"I'd ask you to organize the work in a way that would allow the start of large-scale vaccination by the end of next week," the president told Deputy Prime Minister Tatyana Golikova. She promised to report back when the government is ready to fulfil the task, but Putin tersely responded by saying that he didn't want a report, but an actual start to vaccination.
Participation will be voluntary, and Russian citizens will receive the shots free of charge.
Golikova has asked heads of Russian regions to provide reports on their capacity to distribute 'Sputnik V.' Moscow will determine the volume of supplies based on the availability of necessary equipment, storage conditions, the number of trained personnel and the establishment of vaccination points.
Also on rt.com
Hot on the heels of Sputnik V, Russia's 2nd Covid-19 vaccine 'EpiVacCorona' set for release in December, say developers
Earlier on Wednesday, Defense Minister Sergey Shoigu told the president that four more medical centers had been built by the military to help combat coronavirus. They have already been handed over to the local authorities in the southern Astrakhan Region and the cities of Pskov and Severomorsk. One such facility in Pskov is designed to treat children diagnosed with Covid-19 and is able to host up to 60 patients simultaneously.
Putin said that both military and civilian construction workers deserved "an excellent mark" for their work in the past months, as the building of medical facilities had proceeded 24/7 and was concluded on time. The military has erected a total of 29 medical centers across Russia since the start of the pandemic.
Putin also hailed Russian scientists, saying that "the production of Sputnik V, the world's first registered vaccine against the coronavirus infection, is what allows us to begin the vaccination." Sputnik V received state approval in August, with the Phase-Three clinical trials ongoing. The latest data shows that more than 95 percent of the trial shots were effective against Covid-19. In mid-October, Russia also registered its second vaccine, EpiVacCorona.
Also on rt.com
Over ONE BILLION doses of Russia's Sputnik V vaccine against Covid-19 expected to be ready in 2021 as producer promises low prices
Like this story? Share it with a friend!
You can share this story on social media: