Fire burns down ENTIRE floor of high-rise residential building in Krasnodar, southern Russia, no casualties reported (VIDEO)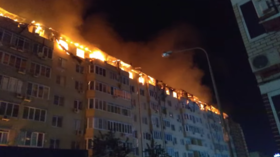 An eight-story apartment block in Krasnodar, a major city in southern Russia, was ravaged in a blaze after its wooden attic floor caught fire, prompting a mass evacuation. The incident did not cause any casualties or injuries.
The fire started around 2:15am local time on the attic floor of the high-rise, with the first fire crews arriving at the scene within six minutes after the incident was reported.
Some 140 firefighters and 40 fire engines battled the blaze, which had spread to an area of some 4,400 square meters by the time it was contained, nearly four hours later.
Footage from the scene showed the fire devouring the uppermost wooden floor of the apartment block, and plumes of thick black smoke billowing from the burning building.
Krasnodar, sometimes referred to as the unofficial capital of southern Russia (along with Rostov-on-Don), is located some 160km from the Black Sea and 1,350km south of Moscow. It is Russia's, and perhaps Europe's, fastest growing city. The close to sub-tropical climate and a boom in agriculture and tourism in the region has attracted large-scale migration from the colder north.
В Краснодаре горит жилой дом. Огонь охватил верхний этаж по улице Российская, площадь пожара — 2,5 тысячи квадратов.Из здания эвакуировали более 300 человек, информации по пострадавшим пока нет. Пожару присвоен четвёртый ранг. pic.twitter.com/N0AEObAuCu

— Mash (@mash_breaking) September 13, 2020
The blaze damaged 88 apartments, reducing the attic floor to smoldering debris, said Oleg Volynkin, head of the Russian Emergencies Ministry's Principal Directorate for Krasnodar Region.
The 8th floor has burned down completely, along the perimeter of the building
Some 300 people, who woke up to find flames ripping through the top of the building in the middle of the night, have been evacuated. They were taken to a temporary shelter, located in a nearby school.
While an investigation into the cause of the blaze is still in its early stages, Volynkin said that it appears the incident was caused by negligence.
The official noted that preliminary data suggests there could have been more than one source of the fire.
Think your friends would be interested? Share this story!
You can share this story on social media: