Leading Russian actor Efremov arrested after fatal Moscow crash as Kremlin & prominent Russian public figures express shock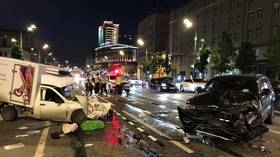 Actor Mikhail Efremov has been put under house arrest following a horrific car crash in central Moscow on Monday night that left Russians stunned. The incident resulted in the death of a 57-year-old man, Sergey Zakharov.
A household name, Efremov was honored as "Meritorious Artist" by the state during the Boris Yeltsin era. That award is roughly equivalent to a British MBE or French Ordre national du Mérite, making Efremov a fixture in Russia's artistic establishment.
Efremov was driving on Moscow's Garden Ring (a central orbital highway) when his Jeep Grand Cherokee crossed the road and hit a Lada van coming the other way. The driver of the other vehicle, Zakharov, later died in hospital. Following the accident, Efremov was filmed confirming that he had been drinking prior to the crash, and eyewitnesses said he appeared to be intoxicated.
A criminal case has been instituted against the actor under the Russian Criminal Code (for an act that led to the death of a person by negligence). He faces up to 12 years in prison.
During a medical examination, alcohol was found in the actor's system. In addition, according to news agency TASS, Efremov's blood tests revealed traces of cannabis, as well as cocaine.
On Tuesday, the judge ordered Efremov to be placed under house arrest for two months because prosecutors were insistent that he might flee or try to pressurize the witnesses. The numerous fines for violation of traffic rules accumulated by the actor in recent years also contributed to the decision, the judge pointed out.
Efremov, who was filmed crying in court, didn't attempt to dispute his house arrest. He said he remembered what happened the previous night, calling the crash "horrendous."
The son of legendary Soviet actor Oleg, the younger Efremov has starred in numerous popular movies and has also enjoyed success as a television presenter. His late mother Alla Pokrovskaya was also a successful actress, in her own right.
Apart from acting, he is known for his views critical of the Russian government, and hosts a show on the liberal radio station Echo of Moscow. A notorious hell-raiser, Efremov's tumultuous personal life - he's on his fifth marriage with six children - has also helped make him a tabloid staple.
Also on rt.com
Hot wheels: Russian driver sends car FLYING & flips it twice at shopping mall parking lot (VIDEOS)
One of them, daughter Anna-Maria, took to Instagram to firmly place the blame on her father for Zakharov's death.
"I sincerely hoped that Sergey (the victim) would survive, and the situation would not be so serious. Today I will contact his family. I'm disappointed with my father. Covering it up and saying that he is not to blame is stupid and irresponsible," she wrote.
Given his fame, Efremov's car crash quickly became Russia's top headline – even prompting a comment from the Kremlin.
Speaking to reporters, President Vladimir Putin's spokesman Dmitry Peskov called the crash a "monstrous case, in which a drunk driver, no matter who he is, caused an accident and a person died."
On Twitter, popular federal TV host Vladimir Soloviev called Efremov a "drunken bastard."
Well-known blogger Ilya Varlamov explained that the actor is a role model for some, and should not be forgiven for his actions. According to Varlamov, "[the] responsibility of a public person should be greater."
According to Russia's Ministry of Internal Affairs, Efremov has been charged with causing death while driving under the influence of alcohol, and could face up to 12 years in jail.
Efremov's lawyer, Vitaly Chernyshov, announced that the actor was "ready to give evidence and cooperate with the investigation in every possible way," and claimed that he had indicated "his readiness to provide any assistance to the family of the deceased."
Also on rt.com
3 injured as Tesla goes up in flames & explodes on Moscow freeway (VIDEOS)
Media reports said Zakharov worked as a delivery driver for a Russian online grocery store and was a native of Ryazan, a city 200km from Moscow. The deceased's nephew told newspaper MK that he was in the middle of divorce proceedings, and planning to get re-married.
- Additional reporting by Jonny Tickle
Like this story? Share it with a friend!
You can share this story on social media: