Russia continues to tighten borders to fight Covid-19 crisis - shuts down many FOREIGN air routes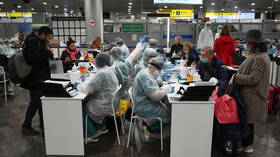 Russia further restricted transport access on Sunday, banning a large amount of flights to and from foreign destinations. The move largely affects routes to secondary cities and holiday resorts, with most capital cities exempt.
The exceptions are regular routes connecting the Russian capital with 146 foreign principal airports and charter flights that are necessary to carry repatriated individuals home.
It works like this. In any one country, as a general rule, airlines may only fly to the state's principal destination. Thus, in the US it's New York, rather than Washington and in Australia, Sydney gets the nod ahead of Canberra.
Moscow's Sheremetyevo international airport is the only hub allowed to handle international flights, and they are restricted to one of its six terminals. A testing regime has been set up there to greet arrivals.
Similar restrictions were earlier imposed on air traffic with countries seriously affected by the coronavirus pandemic, such as the US, China, Britain, Norway, Switzerland, and EU member states.
Also on rt.com
Russia restricts air travel to EU over coronavirus, leaving only select few flights open
Russia currently has 367 confirmed Covid-19 cases and has some 52,000 people under observation. The virus has affected over 300,000 people worldwide, with more than 13,500 deaths recorded. Italy, China and Spain currently have the highest death tolls.
Think your friends would be interested? Share this story!