Moscow mayor announces first Russian coronavirus death: autopsy later reveals it was blood clot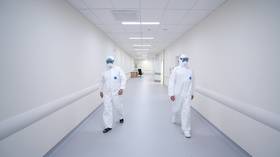 A 79-year-old woman, with numerous underlying health conditions, who was diagnosed with Covid-19, died in an infectious disease hospital in Moscow, the agency for monitoring the situation with the disease reported on Thursday.
The cause of death was a blot clot against the background of very severe health problems, including type 2 diabetes, arterial hypertension, coronary heart disease, and arteriosclerosis among other things. These were compounded by her coronavirus diagnosis.
EDITORS NOTE: The original headline on this article was 'First coronavirus patient dies in Russia: Elderly woman with underlying medical conditions.' In common with other media outlets, our initial report was published before the autopsy results were known. This report has been amended to take account of the new information.
Early on Thursday, Moscow Mayor Sergey Sobyanin announced that the patient had died after a test for Covid-19 gave a positive result. "Unfortunately, we have the first loss from coronavirus infection [in Russsia]," he tweeted. "Pneumonia in a 79-year-old woman was complicated by serious diseases."
However, later in the day, Oleg Zairatyants, the chief pathologist of the capital, said it was actually a blood clot which caused the death. "This was a massive bilateral pulmonary thromboembolism," he explained. "Despite the fact that the patient was hospitalized with the early signs of pneumonia and coronavirus infection was confirmed, while she was still alive, the cause of death was not pneumonia, but a detached blood clot: There were no changes in the lungs at the time of death."
According to Moscow daily Moskovsky Komsomolets her name was Valentina Zubareva, a professor who lectured at the Gubkin Oil and Gas University in the Russian capital. She was still delivering lessons up until last week. The University refused to confirm the story, with its press service saying it had received no information about the case.
The patient was hospitalized in a private clinic last Friday, but then transferred to an infectious disease hospital several days later.
Her coronavirus test returned positive, and she was placed in isolation and given intensive care treatment due to respiratory failure.
Health authorities have compiled a list of people who recently came into contact with the woman. They have all been placed under medical supervision, but none have so far showed any severe symptoms of the disease.
Also on rt.com
Russophobic obsession more important than coronavirus: Kremlin slams 'unfounded' EU report on Russian pandemic disinformation
This is the first death of a coronavirus patient in Russia where 199 people have so far been infected, as of Thursday evening, according to official testing figures.
Think your friends would be interested? Share this story!
You can share this story on social media: