Not your typical street scene in Russia: Two ELEPHANTS roll in snow & push keepers around in frosty Ekaterinburg (VIDEOS)
People were stunned to look out their windows and see not one but two Indian elephants on the snowy streets of the city of Ekaterinburg. The frolicsome duo were visiting Italian circus stars that went outside to experience Russia.
The two heavy stompers responsible for the highly unexpected spectacle in the Russian city on Thursday were 45-year-old Carla and 50-year-old Rani, who had earlier performed in the city circus. Management insists their playful stroll was not some 'Madagascar'-style escape attempt but rather animals stretching their feet and trunks before a days-long drive to St. Petersburg.
As eyewitness videos and pictures show, locals and staff joined forces and used ropes to wrangle the pachyderms back into their pens. Traffic police did their part too, closing the streets to cars until the animals were secured.
The gentle giants got a chance to bathe in snow and have some fun, though whether the street was an appropriate playground for them is open to question. The elephants left some minor damage behind, bending some railing. The circus downplayed the incident.
"The elephants have their own character and emotions, they are very smart," it said in an online statement.
"They walked outside and got very happy from seeing the snow, the trees and the pedestrians whom they took for spectators. Rani stayed by one of the trees while Carla walked towards a pile of snow."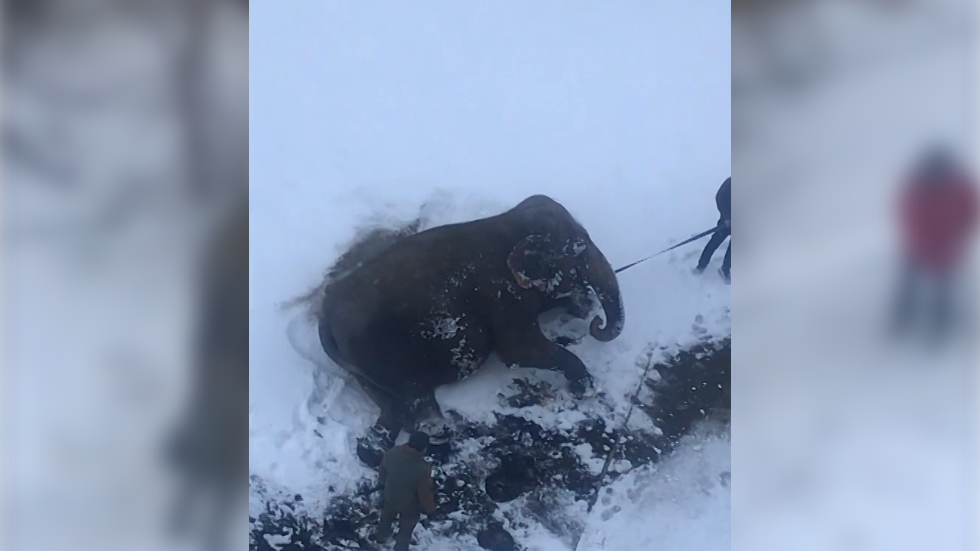 The elephants belong to the Togni family, the self-proclaimed oldest circus dynasty in Italy, who brought Carla and Rani on a 16,000km (9,950-mile) journey earlier this year to perform on tour, after circus animals were banned in Italy.
"We love our animals a lot, they are our family," said circus art director and host Sergey Bondarchuk. "They too love the circus, they get bored without work. Our animals will live and die with us, they won't survive in the wild."
Also on rt.com
Suspected ancient MAMMOTH TRAPS uncovered in Mexico City, bones of some 14 giant beasts found (PHOTOS)
While certainly not as common as dogs or cats, elephants make surprisingly regular appearances on Russian streets. Just over a year ago, another pair of the animals made their way into a city park in Kemerovo.
Think your friends would be interested? Share this story!
You can share this story on social media: