First VIDEOS of shooting near FSB building in central Moscow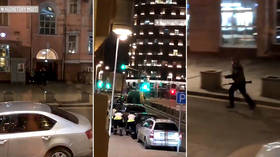 Videos showing a gun rampage near the Federal Security Service (FSB) headquarters in central Moscow have emerged online. People can be seen running for their lives as shots are heard in the background.
A footage taken from a nearby building shows a black-clad person – it is not clear whether the person is a security officer or attacker – running along the emptied street.
According to the latest information, one FSB employee has died in the shootout. Medics also say that five more people were treated for injuries.
What appears to be a dead or injured traffic inspector is seen laying on a street right next to the FSB building.
Large numbers of officers have been deployed to the area. Footage shows a Special Force unit wearing full-body armor and helmets, with assault rifles and shields. The officers are seen preparing to enter the area, which was earlier cordoned off.
READ MORE: FSB shooting: Man opens fire near HQ of Russian intelligence in central Moscow, one FSB staff killed
Another video shows an ambulance near the FSB HQ with people fleeing the area and loud sirens heard in the background.