Houdini trick, but Russia-style? VIDEO shows 'suspect' jumping out of police station still handcuffed to RADIATOR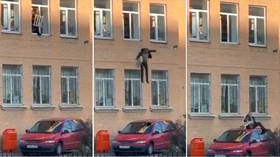 A stunt that Harry Houdini would've surely disapproved of was caught on video in Russia. Instead of escaping from his cuffs, a man jumps out of a police station's window onto a car roof – all that with the radiator still attached.
The video, which has gained some traction on social media, shows the presumed "detainee" making a daring jump from the building's second floor, landing on top of a red vehicle and then getting away, all while having his limb handcuffed to a huge white radiator.
Right before the video cuts, another man sticks his foot out of the window in an apparent attempt to jump down and chase after the fugitive – viewers thought him to be an officer, if not a fellow suspect. "That's just how we roll," one of the comments read.
Footage of the brazen "escape" was uploaded online Thursday, and so far next to nothing is known about its origins. Several reports insist it all took place in Moscow, but the only sure location marker is the Russian flag installed over the entrance of the police station.
The identity of the daredevil is also up in the air, even though he's already found some internet support over his supposed thirst for freedom.
Also on rt.com
WATCH 'tank' run a red light & RAM a car at a busy intersection in Russia (VIDEO)
However, there were many who reckoned that the footage was staged all along. Skeptics argued that removing an old-school Russian radiator with one's bare hands is impossible – a tough task even for a plumber, who has all the tools on him and isn't handcuffed.
Those with some knowledge of physics added that the iron radiator, which usually weighs between 25 and 35 kilograms, would've severely shifted the man's gravity center during the fall, which doesn't really happen in the clip. Moreover, he lifts it suspiciously easily when making his escape down below.
It appears that for now, with the clip being shared on social media, it's up for the internet to decide if the footage is to be trusted – and whether the main culprit deserves credit at least for a dangerous-looking stunt.
Think your friends would be interested? Share this story!
You can share this story on social media: