Hero pilots who landed packed Russian plane after birdstrike to get state awards – Kremlin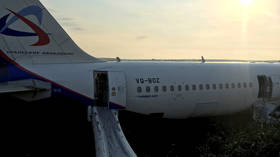 The Kremlin will "undoubtedly" honor two "hero pilots" who safely landed the packed A321 in the countryside near Moscow's Zhukovsky airport, saving 233 lives, a presidential aide said.
"Once all formalities are done, they will be given their awards without doubt," Dmitry Peskov announced.
The two pilots, Captain Damir Yusupov and First Officer Georgy Murzin, were earlier praised by the public after manually landing the aircraft in a corn field just 1km from the airfield they departed from.
Also on rt.com
Russian airliner with 233 on board suffers birdstrike, makes BELLY LANDING near Moscow (VIDEO)
Despite having no time to dump fuel, the crew managed to safely land the heavy-loaded aircraft and evacuate all 226 passengers.Commenting on the fortunate landing, Peskov wished a speedy recovery to those injured (76 including children) and praised "the hero pilots who saved lives and landed the plane."
Also on rt.com
Drone footage shows emergency landing site of bird-stricken Ural Airlines plane
The Ural Airlines' A321 was flying to Simferopol in Crimea when it hit the flock of birds shortly after take-off, disrupting its two engines.
You can share this story on social media: