Drone footage shows emergency landing site of bird-stricken Ural Airlines plane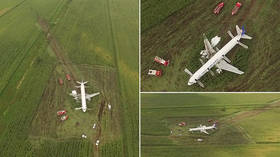 Drone footage shows emergency landing site of a Russian passenger plane with 233 people on board after it had a bumpy touchdown in a cornfield outside Moscow's Zhukovsky Airport.
The panoramic shot captures the ill-fated aircraft while emergency vehicles are already on the scene in the foreground. Extinguishing liquid can be seen dripping off the plane's right wing following the quick response.
76 people, including 19 children, required medical attention following the incident. The Airbus A-321 had to go down right after take-off after being struck by "numerous" birds.
More footage shows the full extent of the vast scar dug into the ground during the controlled, but bumpy, landing.
Think your friends would be interested? Share this story!