Russian investigative journalist detained in Moscow, charged with drug trafficking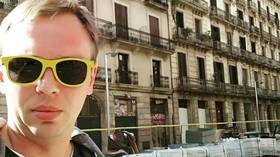 Moscow police detained an anti-corruption journalist for alleged drug offenses. The reporter's lawyer and employer maintain he was set up.
Five packages containing the illegal substance mephedrone were found in the journalist's backpack as police stopped Ivan Golunov in central Moscow on Thursday. More drugs and scales were discovered during a further search at his apartment, police said in a statement providing photo evidence of the seizure.
Meanwhile, the journalist's lawyer suggested police have planted drugs on his client in an attempt to frame him, according to local media. He claimed officials refused to take samples of the man's fingernails to find out whether he had touched the drugs. Signs of beatings were seen on the journalist's head, the lawyer said.
Also on rt.com
Prominent Russian journalist Sergey Dorenko dies in Moscow after motorbike accident
Shortly after the detention, the Interior Ministry's website published several photos, featuring forbidden substances. But all of them, except a single image, soon disappeared from the page. The police then explained that only one photo was actually from the journalist's home, while the rest had been taken during investigative activities into drug dealers. They added that Golunov was being probed for links with the group.
An internal probe has reportedly been launched over the Interior Ministry's press-service staff publishing the wrong photos.
Another source of controversy was the conflicting statements on why the samples of the detained journalist's nails hadn't been taken at the police station. The Interior Ministry said that Golunov himself refused to provide the samples, which could prove or disprove if he'd ever used or even touched drugs.
The journalist insisted in his testimony that he specifically asked for his nail samples to be taken, but the request was denied.
Golunov who has been working for several high-profile Russian media outlets is mostly known for his investigative reporting on corruption. His current employer, the news website Meduza issued a statement claiming that their staff writer is innocent. The media outlet editors alleged that the journalist is persecuted for his reporting and pledged to defend him "by any available means."
Police have opened a criminal case against Golunov. A Moscow district court will decide on his bail conditions later on Friday or Saturday.
On Friday evening, dozens of people gathered outside the Interior Ministry headquarters in Moscow to protests Golunov's detention. The protesters, including many prominent journalists, staged a rotating one-person picket. There were reports of several arrests, but the detainees were swiftly released.
Like this story? Share it with a friend!
You can share this story on social media: