'See you again': Russian funeral parlor stuns visitors with bizarre sales slip greeting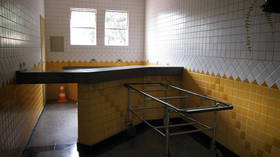 A funeral home is certainly not a place one would like to frequent, but one such business in Russia apparently thinks otherwise as text on its cashier's receipt suggests the establishment can't wait to see their customers again.
A resident of the town of Belogorsk in Eastern Russia was so perplexed by the funeral home's weird message that he sent the sales slip to the local news. The receipt suggests this particular person paid 3075 rubles (around $47) for washing and dressing of the corpse. A text in bold at the bottom reads "See you again."
Once uploaded to the web, the receipt was widely shared on social media leaving people to wonder whether the bizarre greeting was provoked by someone's sick joke or was caused by simple negligence.
Also on rt.com
VIDEO emerges allegedly showing that a morgue in Russia was used to store baby food
The funeral home's management has not commented on the issue so far, however, it is assumed that the facility simply used default settings which included the actually standard phrase (such settings can be changed, though).
Like this story? Share it with a friend!