'No illusions', but there are 'chances' – Russian PM on Ukraine elections and bilateral relations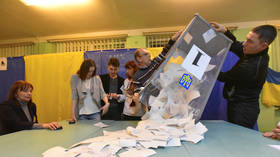 Ukrainian president-elect Volodymyr Zelensky won't change his campaign rhetoric about Russia, but there is a real chance for Moscow-Kiev ties to improve after the election, according to Russian PM Dmitry Medvedev.
"There is no doubt the new head of state will remain committed to his campaign rhetoric about Russia, repeating the same ideological cliches… I have no illusion about that," Medvedev wrote on his VK social media page.
He expressed hope, however, that there is "a chance to improve cooperation" between Russia and Ukraine, if the new leadership uses "common sense" and a "pragmatic and responsible approach" that takes into account political realities in Ukraine.
Also on rt.com
Landslide victory: Early Ukraine election results show Zelensky's near 50-point lead over Poroshenko
On Sunday, Zelensky vowed to "reboot" peace talks between Kiev's troops and the self-proclaimed republics of the Donbass region, stating that finding an everlasting solution to the conflict was his top priority.
"We will continue with the Minsk talks, we will reboot them," he said, pledging to "act within the Normandy format," referring to the French-German-Russian-Ukrainian talks on war.
READ MORE: Russia cautiously hopeful as newcomer Zelensky promises to 'reboot' E. Ukraine talks
Earlier, Zelensky's campaign manager included direct talks with Moscow in a list of priorities that would be pursued if he won the second round of elections. Zelensky also promised to step up efforts to re-integrate the eastern regions, which he described as "occupied," back into Ukraine but offered no details as to how this would be achieved.
Meanwhile, Kremlin spokesman Dmitry Peskov said it was "premature to speak about the congratulations on the part of [Russian President Vladimir] Putin to Mr Zelensky, as well as the chances for cooperation." He added: "We can only judge on his actions."
The TV comedian turned politician has won 73 percent of the vote, while the incumbent President Petro Poroshenko got just 24 percent with more than 96 percent of ballots counted.
Like this story? Share it with a friend!
You can share this story on social media: