Landslide victory: Early Ukraine election results show Zelensky's near 50-point lead over Poroshenko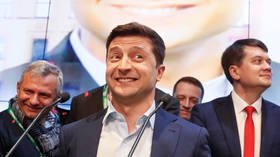 Comedian Volodymyr Zelensky has secured an impressive victory against incumbent president Petro Poroshenko in Sunday's run-off, the first official results confirm.
The 41-year-old showman secured over 73 percent of the vote, the Central Election Commission's latest data shows, with 75 percent of the ballots counted. Poroshenko only managed to rake up a bit over 24 percent of support in the second round of the presidential race, as Ukrainians overwhelmingly turned away from his policies, which have perpetuated the war in Donbass and plunged millions into poverty.
Also on rt.com
Poroshenko out, Zelensky in: West backed the wrong man in Ukraine & now it's payback time
While the final results of the election might not be announced until April 30, the outgoing president has already conceded defeat, consenting to a peaceful transition of power in the country.
In his victory speech, Zelensky promised to 'reboot' the Minsk process but at the same time to launch a 'powerful information war' to eventually achieve a long-lasting peace in the east of the county. The comedian, who made a name for himself through a parody of corrupt officials, promised to introduce new faces to key government positions.
A number of countries, including the US, have already welcomed the victory of the so-called 'servant of the people', while Russia showed cautious optimism about the newcomer, stressing that Zelensky has a chance to show "understanding of the need to unite the people, not on the basis of force, but on the basis of a national agenda."
Also on rt.com
Ukraine's president-in-waiting Zelensky vows to end conflict in Donbass with 'POWERFUL INFOWAR'
If you like this story, share it with a friend!
You can share this story on social media: