Russia cautiously hopeful as newcomer Zelensky promises to 'reboot' E. Ukraine talks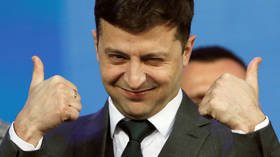 Some top Russian officials have expressed cautious hopes that the imminent presidential victory of Volodymyr Zelensky might improve the situation in Ukraine – and relations with Moscow. Others, however, remain quite skeptical.
Zelensky had all but secured a certain victory by Sunday night, leading the incumbent Ukrainian President Petro Poroshenko in this second run-off with over 72 percent of votes, according to early results.
The landslide defeat is a clear result of the policies pursued by Poroshenko during his term, chief of the State Duma's foreign relations committee Leonid Slutsky has said, adding that neither his "foreign handlers" or his "anti-Russian provocations" had helped him to get re-elected. He cautioned, however, that it's a bit too early to form a full opinion about the political rookie Zelensky, suggesting a wait for his first steps in office.
Speaking to reporters shortly after celebrating the exit poll figures, Zelensky appeared to be quite tight-lipped about his policies or even about the team he's picked to govern Ukraine. He said, however, that ending the eastern Ukrainian conflict is his priority – which he seeks to achieve through waging a "powerful information war" of sorts.
With Zelensky also promising to "restart" the Minsk peace process, a cautiously optimistic message to Kiev has been posted on Facebook by Russian Foreign Ministry spokeswoman Maria Zakharova.
"With all the understanding of how the world works behind the scenes, I'll still say: Ukraine can go for a reset. Not in the sense of the redistribution of cash flow from one pocket to another. But a real one, based on the understanding of the need to unite the people, not on the basis of force, but on the basis of a national agenda," Zakharova wrote.
Such a "reset" will ensure that the Ukrainian authorities won't have to "deprive millions of … citizens from voting," Zakharova added. That was an obvious reference to the Kiev authorities' having decided not to offer electoral participation at any diplomatic facilities in Russia, despite several million Ukrainians working or living in the country.
Also on rt.com
US & Europe react to Poroshenko's defeat by comedian Zelensky in Ukraine
Russia's Chechen Republic leader, Ramzan Kadyrov, struck a similarly cautious, if a bit sarcastic, tone. Kadyrov congratulated Zelensky with his victory, addressing him directly.
"I would like to wish Vladimir Zelensky good luck in the noble quest of Ukraine revival and bringing together Ukrainian and Russian people. If he has such intentions," Kadyrov said.
Meanwhile, the Russian Orthodox Church expressed hopes the Ukrainian state will stop the oppression of the faithful under the new president.
"I cannot speak about the political fallout, since it's hard to predict. Yet I wholeheartedly hope that the persecution of the canonical Ukrainian Orthodox Church will stop," spokesman Vladimir Legoida told TASS.
Think your friends would be interested? Share this story!
You can share this story on social media: