Mueller report 'poor quality' & 'not worth taxpayers' money' – Kremlin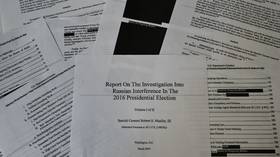 The newly released redacted version of the Mueller report contains no proof or new information on alleged Russian meddling in the 2016 US election, the Kremlin's spokesman has said.
Commenting on the release of a redacted version of Special Counsel Robert Mueller's report, Dmitry Peskov pointed out that "all this information has appeared before via different sources in one way or another."
The report still does not have any "substantiated evidence" of Russia's alleged interference in US elections. "What has US taxpayers' money been spent on?" he asked.
Also on rt.com
Mueller report takes 'Russian meddling' for granted, offers no actual evidence
"We regret that documents of such poor quality have a direct impact on the Russian-US relations, which are already not at their best," Peskov added.
Mueller's final report was released to the public on Thursday, albeit with some classified and legally-sensitive information censored. It claimed that Russia tried to influence the US electorate through a social media campaign ran by the Internet Research Agency (IRA).
READ MORE: 'Hard to find a black cat in a dark room, if it isn't there' – Kremlin on Mueller report
The report also suggests that Russian military intelligence "hacked" the Democratic Congressional Campaign Committee (DCCC), the DNC, and the private email account of Hillary Clinton's campaign chair, John Podesta.
However, the investigation concluded that neither Trump nor any other American "conspired or coordinated" in election interference efforts. The report also outlined contact between Trump associates and Russians, mostly businessmen, but admitted that it did not warrant bringing charges.
Like this story? Share it with a friend!
You can share this story on social media: