'How dare you!' French ambassador shames Ukrainian pundit for joking about Notre Dame blaze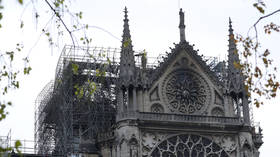 A Ukrainian political commentator drew the ire of the French ambassador in Kiev after joking that Monday's devastating fire at Notre Dame might be linked to the visit of the frontrunner in the Ukrainian presidential election.
A staunch supporter of the incumbent Ukrainian president and frequent guest on president-friendly political talk shows in Ukraine seemed to cross the line when he tried to score a few political points for his patron amid the Notre Dame Cathedral fire.
On Monday, while the world was watching the huge blaze destroy the iconic gothic cathedral in Paris, Taras Berezovets found some tongue-in-cheek words of encouragement for French President Emmanuel Macron:
"Well, Macron is lucky that after Zelensky's visit, only Notre Dame de Paris burned down. Elysee Palace could have caught fire too," he tweeted in Russian. The tweet remained for about a day before being taken down by Berezovets.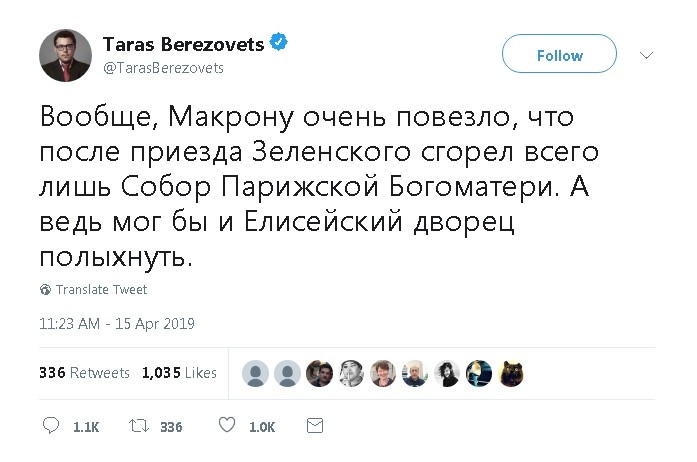 Zelensky is a comedian-turned-politician who is slated to become the next president of Ukraine, much to the chagrin of the current leader, Petro Poroshenko. Like many other pundits, Berezovets has been busy these last two weeks, desperately trying to undermine Zelensky.
The tactless joke drew the ire of Isabelle Dumont, France's ambassador in Kiev, who retweeted it with a response in Russian: "How dare you! Shame." She also tagged the Ukrainian foreign minister and the ministry's official Twitter account.
The minister, Pavlo Klimkin, did find time to express his condolences to the French people over the damage done to the historic church, but is yet to respond to Dumont.
However, one foreign ministry did react to the French ambassador's tweet – Russia's.
"Why are you surprised? It's your school," the @MID_RF account responded, posting a cartoon published by French satirical publication Charlie Hebdo after a plane crash killed most members of a Russian military choir in 2016.
Ironically, Berezovets seems to have endorsed this assessment. After deleting the tweet, he posted an explanation on Facebook, citing Charlie Hebdo's work in his defense. "How is my right to free expression different from those of my French colleagues?" he asked before seizing the opportunity to attack Zelensky again over jokes he made as a comedian and accusing him of unleashing a "troll factory" to hound him for the tweet.
If you like this story, share it with a friend!
You can share this story on social media: