It's payback time? Russia slaps Facebook with… $47 fine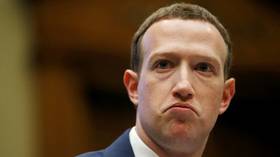 Facebook has been punished for failing to store the personal data of Russian citizens on servers within the country. But the double-digit fine is unlikely to make the company, which earned $55.8 billion in 2018, change its ways.
A Moscow court ordered Facebook to pay 3,000 rubles (around $47) for refusing to provide information on the localization of the personal data of Russian users on the territory of Russia to telecom watchdog, Roskomnadzor.
It's the lowest possible penalty for such an offense. However, the harshest fine would still see the US company forking out a mere 5,000 rubles ($78).
Friday's hearing went on without the representatives of the social media giant, who didn't arrive in court for the second time in a row and didn't ask for the session to be rescheduled.
According to the case materials, Facebook justified its refusal to Roskomnadzor in an email by claiming that the personal data of its users "isn't segmented by the geographical principle."
Also on rt.com
Twitter fined $46 in Russia but could face being blocked for non-compliance with country's law
The administrative case against company was launched in January after the watchdog's boss, Aleksandr Zharov, said the response provided by Facebook lacked specifics.
In April, Twitter was also penalized $47 for similar violations as the two social media platforms continue to resist the 2015 law that forbids the storing of personal data of Russian citizens on servers abroad.
The small fines may raise a smile, but the penalties can become a lot stricter if Facebook and Twitter continue to operate in violation of Russian law. Social network LinkedIn remains blocked in the country since 2016 for storing personal data outside Russia.
Also on rt.com
Google may be blocked in Russia & country is ready to change laws to do it – watchdog
Think your friends would be interested? Share this story!
You can share this story on social media: