Russian MPs mull complete ban on plastic bags
Published time: 12 Apr, 2019 10:28
Edited time: 12 Apr, 2019 16:14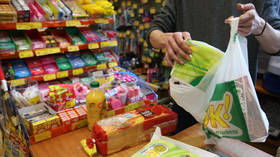 Russia may completely ban the use of plastic bags by 2025, according to an eco-friendly initiative proposed by a senior MP in the national parliament's Lower House.
In his letter to the deputy prime minister of Russia, MP Vasily Vlasov stressed that due to their slow rate of decomposition, plastic bags are a "key issue" in regards to the pollution problem in the country and that it becomes "more acute every year."
According to Greenpeace, some 26 billion plastic bags are used in Russia each year.
And Vlasov considers "a complete ban on plastic bags an appropriate measure" to tackle the problem. "I'm convinced that this transitional period would be enough to prepare the economy for it," he stressed in a letter.
Also on rt.com
Global recycling crisis shows West can't use poorer countries as dumping grounds
Greenpeace welcomed the initiative, but stressed that plastic bags "are just the tip of the iceberg."
"If we have a look at supermarkets' shelves, we find a wide range of plastic packaging and single-use items, which is one of the main reasons behind the dump site growth," Greenpeace expert Varvara Yarovaya said in a statement, asserting that the plastic problem should be approached in its entirety.
Maria Malorossiyanova from the ecological non-profit organization ECA told RT that it's necessary to offer a "sustainable alternative to plastic bags."
"Paper bags are often presented as an alternative, but they are usually produced from fresh raw materials and have a high carbon footprint," she said. "That's why it's important to promote ecological awareness in addition to restrictive measures and stimulate use of returnable bags instead of one-way plastic bags."
Also on rt.com
Echoes of Arya Stark as Russian girl's threatening 'slit-throat' gesture at governor goes viral
The MP cited an example of other countries that restrict the use of such products to fight the plastic epidemic affecting the planet. Earlier this year the European Parliament voted to ban single-use plastic cutlery, cotton buds, straws, and stirrers. In 2017, France banned distribution of thin, single-use plastic bags at cashiers. Hawaii became the first state in the US to fully ban plastic bags at grocery stores in 2015.
Like this story? Share it with a friend!