Echoes of Arya Stark as Russian girl's threatening 'slit-throat' gesture at governor goes viral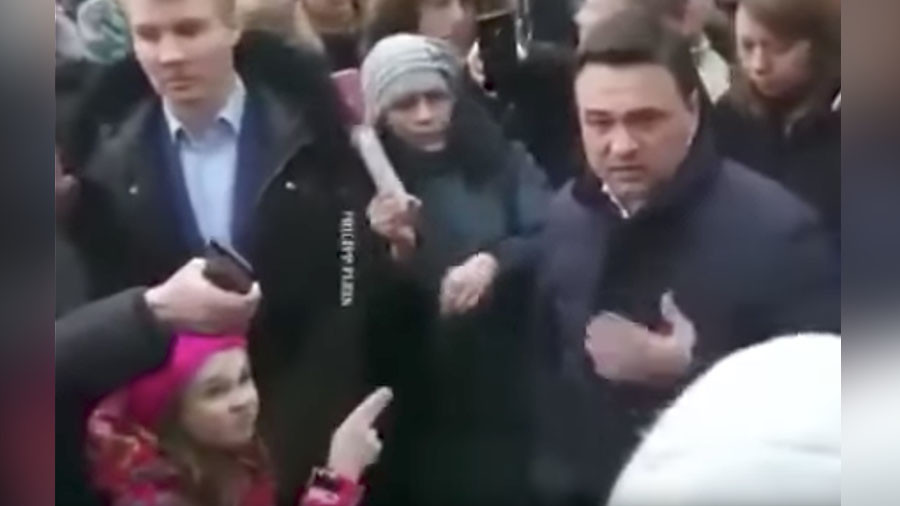 The Russian internet has exploded with jokes and fun after a small girl was caught on camera making 'slit-your-throat' gestures at the governor of the Moscow region as he tried to calm a crowd of protesters.
The incident took place in the town of Volokolamsk, about 100km west of Moscow. On Thursday, local residents held a rally in protest against a large landfill dump in the town's vicinity, pollution from which is alleged to have poisoned up to 50 children in the area.
Governor of the Moscow Region Andrey Vorobyov arrived at the site to talk to the outraged townsfolk, and try to calm them down. The event was recorded by news teams, and one clip of the footage quickly won the hearts of the public.
In it, a small girl standing close to the governor makes a threatening 'slit-your-throat' gesture and then ominously points at the official, while maintaining a deadly serious expression on her face.
The video quickly got hundreds of reposts on social networks, with users calling the girl "a miracle" and "a symbol of the approaching revolution." Others wrote that the child should be made governor instead of Vorobyov, and compared her to Arya Stark, the baby-faced assassin from Game of Thrones.
Vorobyov's address did not succeed in completely calming the Volokolamsk protesters, but at least the governor was not attacked. The head of Volokolamsk District, Yevgeny Gavrilov, who attempted to communicate with protesters earlier, received several slaps and had the hood of his parka torn off.
The internet storm prompted Russian reporters to find the girl's mother and ask her about the details of the incident. The woman said that her daughter was simply too tired to breathe the poisoned air and walk around wearing a face mask. At the same time, she emphasized that the girl did not know anything about regional governor Vorobyov when she expressed her emotions.