Top scientist proposes using nuclear submarines to transport Russian gas from the Arctic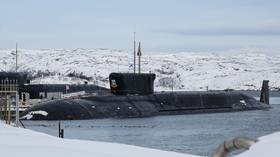 Nuclear submarines could be loaded with liquefied natural gas from underwater deposits in the Arctic and used to transport it to energy hubs without even resurfacing, the head of Kurchatov Institute research center said.
"If we talking about submerged [gas] production facilities than why not consider the idea of underwater transportation," Mikhail Kovalchuk suggested during the International Arctic Forum underway in St. Petersburg.
Imagine that we create an underwater gas carrier in the body frame of a submarine with a nuclear engine.
Such vehicles could pick up gas directly at the underwater deposits and work in "shuttle mode" to deliver it to consumers, the doctor of sciences in physics and mathematics said.
Besides the submarines may become a safer way of transporting gas than large tankers, Kovalchuk pointed out.
However, the scientist acknowledged that the "economic viability" of such underwater gas carriers is yet to be established.
Also on rt.com
Russia to expand annual LNG production to 140 million tons
The patent for underwater liquefaction of gas had been already submitted to the relevant authorities and its transportation by submarines "seems like a logical solution," Elena Fedorova from the Gubkin Russian State University of Oil and Gas said.
"But now it's hard to say how fast such a project can be made a reality" as it would require breakthrough engineering solutions, she told RT.
Submarines may well be a safer way to transport gas in the Arctic as "they can move beneath the ice thus solving the problem of collisions with icebergs," Fedorova pointed out.
But the the head analyst of the Premier BKS consulting firm, Anton Pokatovoch, told RT the subs will be a lot less efficient economically compared to the large tankers already in use.
"The capacity of a supertanker is around 110,000 tons of liquefied natural gas, while even if we take largest nuclear-powered submarines ever produced in Soviet Union and Russia they had the maximum capacity of 10,000 tons. It's 11 times less compared to a tanker," he pointed out.
Introducing underwater gas carriers would require the development of a variety of new technologies in "building infrastructure, loading and unloading and elsewhere." This would likely make transportation of the same amount of gas via a sub several times more expensive than using a tanker towed by icebreakers, Pokatovoch said.
Think your friends would be interested? Share this story!
You can share this story on social media: