WATCH meteor whizz above Siberian city & go out with a BANG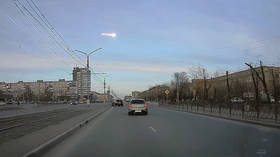 A dazzling object flashed through the skies of the Russian city of Krasnoyarsk in eastern Siberia. The apparent meteor was captured on video by many onlookers – and dashcams, of course.
The shiny orb exploded above Krasnoyarsk around 7pm local time, baffling locals with a mighty bang.
The event was captured by multiple onlookers, most of whom assumed it was a meteor. The object flashed in the skies for about five seconds and many others regretted not being fast enough to whip out a phone and snap a shot.
But one witness, called Svetlana, told RIA Novosti the object didn't look like a typical meteor to her, because it was flying "parallel to the ground" and "vanished" in the air instead of falling.
When in doubt, always look for dashcam footage – and Krasnoyarsk locals delivered on that.
Scientists seemed to agree, however, that it was not the arrival of aliens or anything of the sort. Traces of the meteorite are yet to be found, but the footage of the fireball can already be analyzed.
"Today, there are that many dashcams around it's almost impossible to miss the arrival of a single meteor," an astronomer with Moscow State University, Vladimir Surdin, told Zvezda TV channel.
Also on rt.com
Dashcams capture meteor blazing through Florida night sky (VIDEOS)
Like this story? Share it with a friend!
You can share this story on social media: