'Nothing to discuss here, bro!' Russian rap star walks out of free speech talks with politicians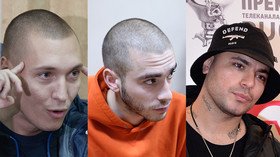 A much-touted roundtable between leading Russian rappers and parliamentarians, prompted by a series of hip hop concerts being cancelled by authorities, veered between awkwardness, a constructive exchange, and an outright farce.
As anyone who watched Kanye meet Donald Trump at the White House knows, rappers and politicians rarely make for easy chemistry, but according to the Russian Duma's youth committee it is the musicians themselves who decided to call for the "unprecedented" talks.
READ MORE: 'I've been used!' Kanye West quits politics, CNN goes into withdrawal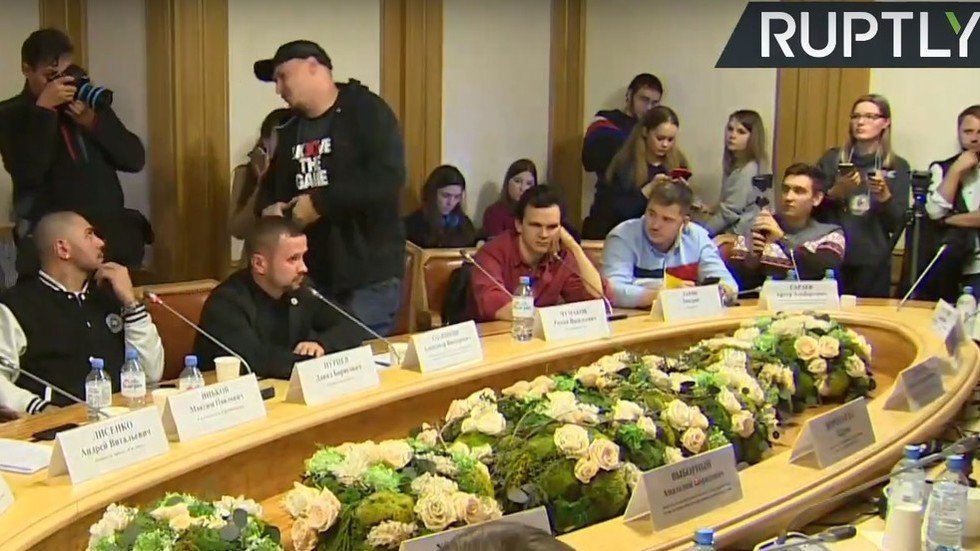 Despite rap being the most commercially viable youth musical genre in the country, its proponents frequently face last-minute gig cancellations while touring outside of Moscow and St. Petersburg, often on the pretext of advertising drug use, obscene language or the alleged threat of violence. Things came to a head last month after provocative performer Husky was stopped from taking to the stage in Krasnodar, then arrested for 12 days when he performed an impromptu gig on the boot of a car outside the venue. Both Moscow officials and civil rights organizations protested, and the rapper was released, but the issue begs for a resolution.
Husky, whose song 'Judas', released earlier this year, was banned for insulting religion:
Husky did not attend the meeting in Moscow, but the handful of emissaries of Slavic hip hop looked sheepish in his stead, as they squeezed into the brightly-lit conference room inside the Duma building on Thursday afternoon. Sat opposite several deputies, and top officials from the police and the general prosecutor's office in sports jackets with their close-cropped haircuts, they reacted angrily when a journalist joked that they were gearing up for a rap battle.
Once the roundtable, loftily titled 'On free speech in rap music', began the musicians tried to walk a tight line between earnestly striking up dialogue, and retaining their street credibility, with Ptaha, one of the participants, admitting that they had already been accused of "kowtowing" simply for turning up.
"I am here for a solution," insisted the rapper.
Zhigan, who has sung extensively about his crimes during a troubled youth:
Instead of a solution, there was talking. Deputy Mikhail Degtyarev seemed keen to prove that he was down with the scene, by paying his "respect" and continuously throwing hip-hop jargon into his attempts to tap into a shared humanity. Law enforcement officials talked about drugs, and child protection authorities spoke about the responsibility to not corrupt young minds.
There were tangents, discussions of the misuse of hate speech legislation, poems and skits read by the participants without a backing track, but mostly all the talking heads delivered their pieces, with little spontaneous engagement between the participants.
Finally, as he rubbed his face red with growing frustration Zhigan, most notorious for his car theft and robbery convictions for which he served time, snapped.
"We are having a conversation about nothing here," he said, before quickly advertising the release of his upcoming film, and making a dramatic exit. "We can spend another 20 years talking about this, bro," he said to Ptaha, tapping him on the shoulder.
The mood in the room changed from tension to despondency, and while the others carried on as if nothing happened, it was obvious that the peak of the real-life performance had passed.
IC3PEAK an alternative hip hop collective that has also faced frequent local bans:
Two hours in, and the meeting wrapped up, still no concrete proposals on the table. But while the cringe factor was high, and legislative changes unlikely, the mere fact that the high-profile meeting took place sends a signal (particularly to regional officials) that the government cares, and that rappers won't be made into pariahs on whom social ills are blamed. And if the price to pay for progress is sitting three feet from a senior policeman after writing odes to multiple ways to break the law, then this could be a deal worth striking even for the true non-conformists.
Subscribe to RT newsletter to get stories the mainstream media won't tell you.
You can share this story on social media: