Russia's largest floating dock sinks, its tower crane makes hole in nation's sole aircraft carrier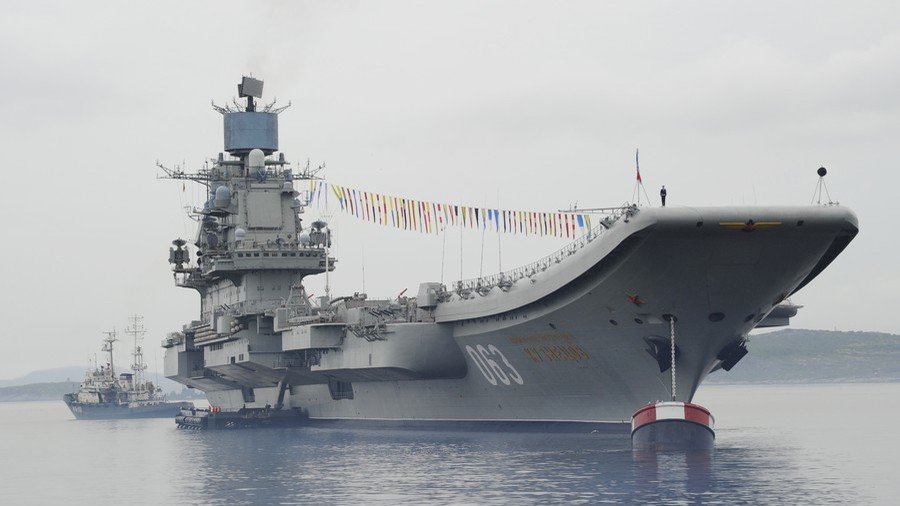 Four workers were injured and one is missing as Russia's largest floating dock quickly went underwater. Its tower crane fell 15 meters, crashing on the country's only aircraft carrier and piercing a hole in its hull.
The incident occurred at a shipyard in the port city of Murmansk in northwest Russia, where the aircraft carrier 'Admiral Kuznetsov' was undergoing planned repair and maintenance. The ship was parked in the floating dry dock PD-50. It could hold up to 80,000 tons, and was considered one of the largest floating docks in the world, as well as Russia's largest.
🇷🇺#Russian#Navy A serious acciden⚠️at the Shipyard no.82 in Roslyakovo, #Murmansk.During an operation with an RFS 063 'Admiral Kuznetsov',the floating PD-82 dock sank.Cranes of the floating dock collapsed.The aircraft carrier may have received damage to the flight deck or hull. pic.twitter.com/1z8rVSjrPu

— Capt(N) (@Capt_Navy) October 30, 2018
Things went wrong on Tuesday after a short circuit on the shore suddenly shut down the dock's pumps. Once that happened, the tanks were quickly filled with water, and the massive structure began to submerge, the shipyard's spokesman told TASS news agency.
About 70 workers were swiftly evacuated from the submerging dock, but not everyone escaped unharmed. Four workers were hospitalized with hypothermia as they came into contact with ice-cold Arctic water. One of them also sustained an abdominal injury. Another dock worker, the senior mechanic on shift, remains missing, local media reported.
READ MORE: Floating crane hits Crimean Bridge during heavy storm in Russia (VIDEOS)
As the dock was sinking, two of its large tower cranes collapsed. One crane smashed right on the aircraft carrier's deck. The ship was just about to leave the dock, so nearly all of its crew was on board when the crane fell down. Yet, none of the servicemen were injured.
The warship's hull, meanwhile, ended up with a gaping hole above the waterline, "four meters long and five meters wide," the head of the United Shipbuilding Corporation, Aleksey Rakhmanov confirmed. He said that it is too early to rule out any additional damage.
The carrier was towed to a different shipyard the same day and maintenance on its deck resumed.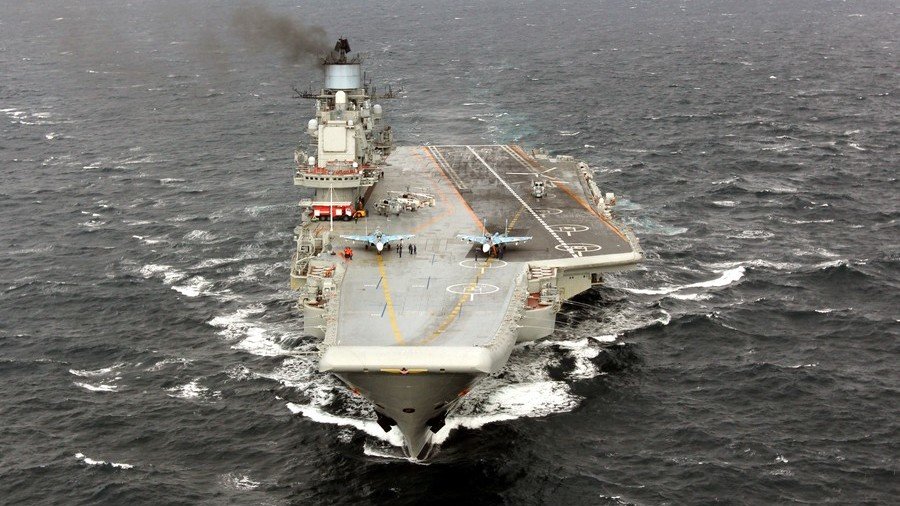 Launched in 1991, 'Admiral Kuznetsov' remains the sole aircraft carrier in Russia's navy, as well as its largest vessel. It is part of the nation's Northern Fleet, and can accommodate more than 40 warplanes and helicopters on its deck. During 2016-2017, the ship saw its first action while operating in the Mediterranean as part of Russia's campaign in Syria.
Think your friends would be interested? Share this story!
You can share this story on social media: