No PACE cooperation in 2019 due to 'anti-Russian hysteria' – snr lawmaker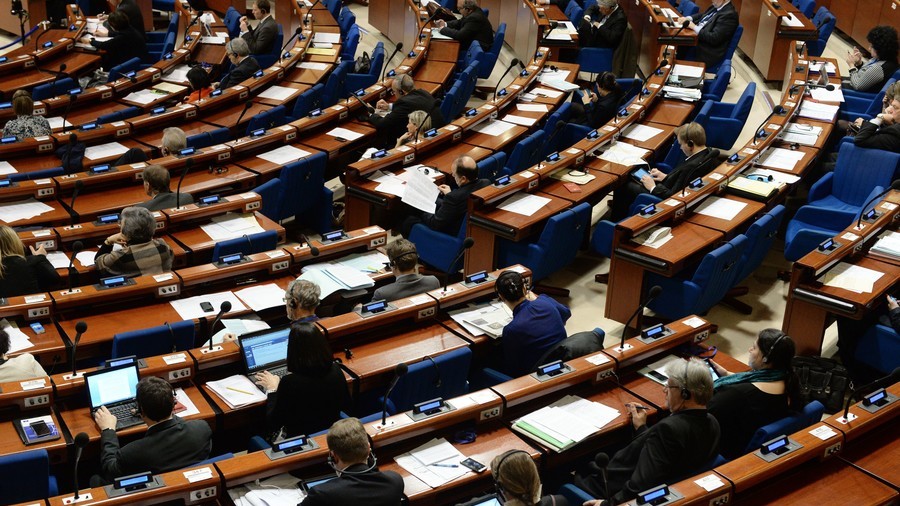 As Russia will most likely not return to PACE in 2019 because the group had postponed the discussion of national delegations' rights following the lead of Russophobic minority, a senior State Duma MP has said.
The comment from MP Leonid Slutsky came soon after the Parliamentary Assembly of the Council of Europe (PACE) announced the decision to postpone till January next year the discussion over the resolution introducing new rules over the national delegations' credential and voting.
Slutsky, who chairs the State Duma Foreign Affairs Committee told reporters that this postponement was effectively preventing Russia from even filing an application for participation in the 2019 session of the assembly.
READ MORE: Top senator hints at Russia's looming exit from Council of Europe
The lawmaker went on to criticize the PACE for following the lead of anti-Russian minority instead of establishing fair and equal rights to all national delegations, which the postponed resolution was all about.
PACE has again shown its weakness and lost its positions before the charge of anti-Russian hysteria.
At the same time, Slutsky noted that there were some positive moments in the forced delay. He said that before January it would be possible to fully rewrite the resolution omitting the articles concerning the sanctions on national delegations instead of "applying just cosmetic retouches" which, apparently is the document's current state.
In the same comment Slutsky said it was very important to set a deadline for passing the changes in PACE regulations, as it had been proposed by Russian Upper House speaker Valentina Matviyenko. "It is impossible to stagnate any further it is time to make a decision: either the assembly assumes a constructive position and rules out any discrimination of national delegations or we are parting ways with the organization that sees Russia as a doormat and only wants us to continue our multi-million payments in their budget," he said.
The conflict between Russia and PACE started in 2014 after the assembly deprived the Russian delegation of voting rights and banned it from participating in ruling bodies or monitoring missions over Russia's alleged involvement in the political crisis and subsequent military conflict in Ukraine. Russia replied with stopping all participation in PACE sessions and later by withholding one-third of its annual payments to the Council of Europe – the approximate share of the fees used to sponsor the PACE.
Russia has also proposed changes to the assembly regulations making the discrimination against separate member-states more difficult, but the resolution has stalled due to strong opposition from several states, in particular the UK, Ukraine, which is now represented by MPs who had come to power as a result of the violent overthrow of the lawfully elected government, and the Baltic nations.
Think your friends would be interested? Share this story!