'Kill 50 cops': Russia begins probe into Ukrainian radicals' call to murder police officers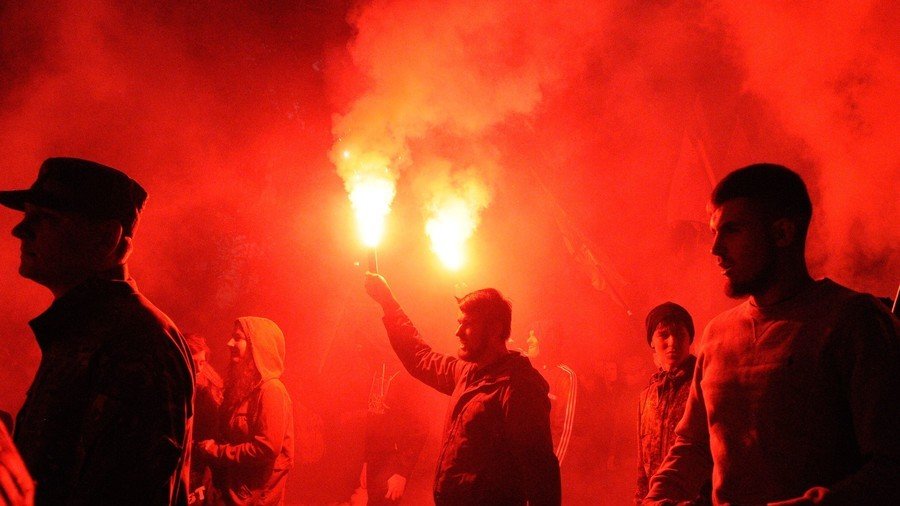 A criminal case against members of the Ukrainian extremist group, who called on supporters to kill 50 Russian law enforcement officers, has been launched by the Russian agency for the investigation of especially serious crimes.
In a message published on the Investigative Committee's website, chief spokesperson Svetlana Petrenko wrote that a criminal case has started after a group of Right Sector members, who call themselves "Right Sector's Central National Court," wrote and published a document which they presented as a "court sentence" on the internet.
This text read that all members of the extremist group must "at convenient time and through means they find reasonable" kill 50 people from Russian law enforcement agencies, courts and other state bodies in revenge for the prison sentence handed to Right Sector member Aleksandr Kostenko by a district court in Simferopol, Crimea.
"When these people [the self-appointed members of Right Sector's 'court'] announced that they had passed the death sentence, in reality they passed instructions to all Right Sector members to commit murders of Russian state, court and law enforcement officials who participated in the investigation of Kostenko's case and in his trial. The Investigative Committee qualifies such actions as conspiracy to commit murder of state officials and officers of law enforcement agencies and also as organization of and participation in an extremist group," Petrenko wrote in her message.
She also promised that in the nearest future all people involved in the so-called "Right Sector's Central National Court" would be officially charged and put on the international wanted list.
Aleksandr Kostenko was sentenced to 4 years and 2 months behind bars in May 2015 for illegal possession of firearms and for injuring a policeman during mass riots in Ukrainian capital Kiev. The sentence was passed in Crimea, which at that time had already reunited with Russia, because both Kostenko and his victim were Russian citizens.
Russia branded Right Sector an extremist organization and banned its activities on its territory in 2014, soon after riots, instigated by the group, had led to the ousting of the lawfully-elected president of Ukraine in an armed coup.
In 2016, Russian investigators started criminal cases against several of Right Sector's leaders on charges of extremism and crimes against Russian citizens and institutions. Also in early 2014, several members of the Ukrainian extremist group were charged with fighting against the Russian military in the Chechen wars of the 1990s.
You can share this story on social media: