Buildings, 7 cars & pizzeria torched in Sweden overnight as arson attacks continue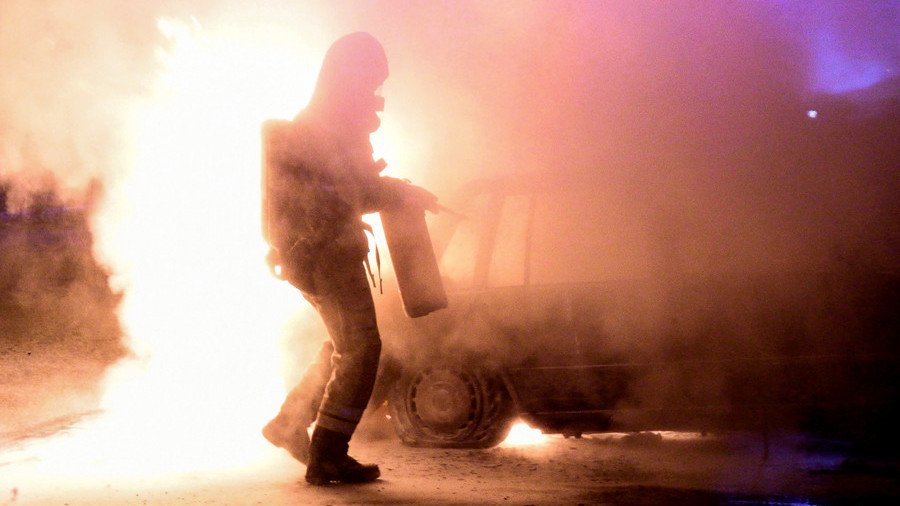 Several buildings, including a pizzeria and a garage, as well as seven cars, were set on fire overnight in southern Sweden as police remain clueless on how to curb the ongoing wave of arson attacks.
The fire services received calls saying that a house was burning in a residential area of Kristianstad municipality shortly before midnight on Wednesday. The police said that a fire at the local pizzeria had started upstairs and quickly spread through the building.
The firefighters fought the flames for several hours, but couldn't save the building, which was "totally destroyed."
A garage and several other buildings were also set on fire during the night, creating a risk of the flames spreading to nearby homes, but the firefighters managed to localize the blazes.
Later in the night, law enforcers and rescuers also had to respond to several reports of car fires occurring at various locations in central Kristianstad. Seven cars in different areas were set on fire, with two of them burning out completely, the police said. There were no fatalities or injuries as a result of the incidents in Kristianstad, it added.
When asked by SVT paper if the fires were arson attacks, chief police officer Tommy Bengtsson, replied that "of course, it can't be ruled out," but refused to speculate about whether Wednesday's fires were connected.
Youth gangs have been blamed for staging multiple car arsons across Sweden in recent years. There were 1,835 such incidents between January and July this year, according to data by the National Council on Crime Prevention.
The police warned that the arson trend may spike in the wake of the start of school in late August. On Monday, more than 100 cars were torched in the Swedish cities of Gothenburg, Stockholm and elsewhere in what was believed to be coordinated attack.
Vandalism, rape, murder and other crimes have spiked in the country in recent years, and this has been linked by some to the European migrant crisis in 2015. Last year, the country saw more than 300 confirmed shooting incidents, which left 41 people dead and 135 injured. The Swedish police are blamed for lacking resources and training to reverse the situation.
READ MORE: More than half of Swedish rape convicts came from abroad, TV research claims
The crime rise and the inability of the state to integrate the arriving migrants have created favorable conditions for the rise of the right-wing Sweden Democrats. The anti-migrant party is currently polling at 19 percent, according to Ipsos, and is looking to record its best-ever result in the forthcoming election on September 9.
Think your friends would be interested? Share this story!
You can share this story on social media: