Lawmakers urge bill on journalists' protection after Russian reporters murdered in Africa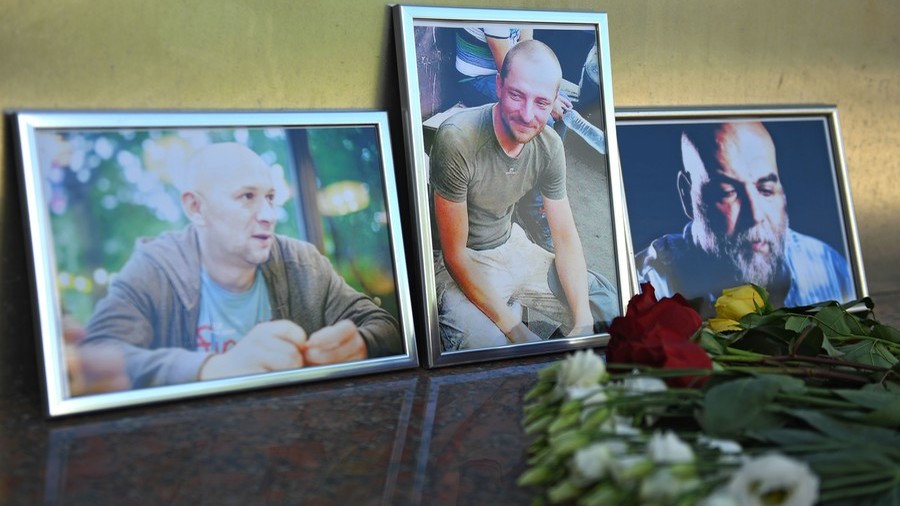 Russian MPs have supported the idea of a bill offering social guarantees to reporters working in "hot spots" and on other dangerous missions after three Russian journalists were killed in the Central African Republic.
The head of the Lower House Committee for Information Policy and Communications, MP Leonid Levin (Fair Russia), said in comments with RIA Novosti that he personally expected the State Duma to pass the bill during the next parliamentary session.
"The sad incident is yet another reminder about the dangers and risks that are an inseparable part of mass media's work. I expect that the bill on social guarantees to journalists who work in hot spots will be passed during the fall session," RIA Novosti quoted the lawmaker as saying on Wednesday. He also expressed his condolences to friends and relatives of the killed journalists.
Levin's comments came soon after it was confirmed that three Russian journalists: Orhan Dzhemal, Aleksandr Rastorguyev, and Kirill Radchenko had been killed in the Central African Republic in what local authorities describe as a robbery.
The head of the Russian Presidential Council for Human Rights, Mikhail Fedotov, promised to press for justice in the triple murder case and also urged lawmakers to speed up the work on the bill.
"The council would apply all efforts to prevent the murder of Russian journalists from being left unpunished and also to ensure that the investigation is conducted with maximum speed and effectiveness. But let us think about journalists who would travel to hot spots tomorrow or the next day. They must have the maximum possible safety guarantees, including increased insurance payments, special training, bulletproof vests, etcetera," he said.
Fedotov also told the press that the Human Rights Council had prepared a bill on guarantees to journalists several years ago, but the motion got stuck in the Lower House. "I hope that the deaths of three Russian journalists would make our parliamentarians feel ashamed of their sluggishness," he noted.
The chair of the Upper House Committee for Social Policy, Senator Valery Ryazanskiy promised unconditional support for the bill. "We are definitely ready to support it in order to protect our people and their families in times of such tragedies. This cannot be questioned," he said.
In 2010 and 2013, Russian lawmakers announced that they had prepared bills toughening the punishment for attacks on journalists, but these motions have not yet passed the parliament.
Think your friends would be interested? Share this story!