Russian reporters urged to leave Ukraine after Kiev murder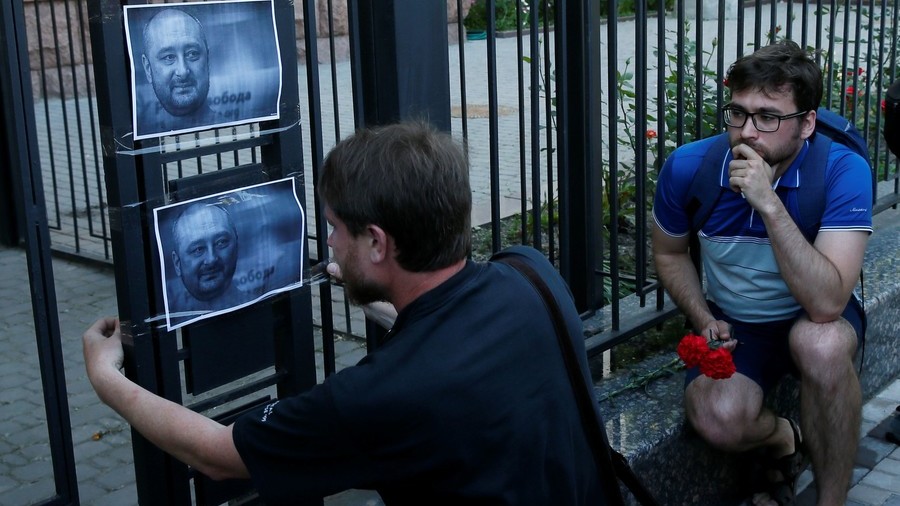 A senior State Duma deputy has stated that, since Russia cannot prevent attacks on journalists in Ukraine, it would be better if all Russian reporters left the country.
Note: This article was released before it became known that Arkady Babchenko's assassination had been staged by Ukrainian security services.
"We have passed a statement after the arrest of [the head of RIA Novosti bureau in Ukraine] Kirill Vyshinsky, of course we will study [Arkady] Babchenko's case as well, but I doubt that there will be a special parliamentary session dedicated to this incident. But even back then we observed that they had started this process – they blatantly arrested a journalist in order to exchange him for a terrorist, which means that it would be better for our reporters to leave this country," the head of the State Duma committee for the Russian diaspora, Leonid Kalashnikov, was quoted as saying on Wednesday by RIA Novosti.
"There is nothing for them to do there. And there is no way we can prevent this. Now it has come to a murder…" the Russian lawmaker added.
The comments came soon after Russian journalist Arkadiy Babchenko was shot dead in Kiev by unidentified assailant. Babchenko was known for his opposition to the Kremlin and fled to Ukraine after facing a criminal probe at home for posting calls to attack police, during protest rallies, on his blog.
Soon after the attack Ukrainian police said they believed that Babchenko was killed because of his work as a journalist, but added that they would investigate other theories.
Kalashnikov also blamed Western nations for ignoring the attacks on reporters in Ukraine. He recalled that there had been no substantial reaction to the Russian statements made after Vyshinsky's arrest and that the Ukrainian authorities had so far failed to establish any suspects in other recent cases, such as the assassination of former Russian MP Denis Voronenkov in Kiev.
"Judging from their anti-Russian position, this will go on and on, regardless of all our statements and PACE addresses," the lawmaker added.
At the same time, the speaker of the upper house of Russian parliament, Valentina Matviyenko, opposed the idea of bringing all Russian journalists back from Ukraine.
"I don't think that our reporters must stop working there, just as Ukrainian reporters are very welcome to work in Russia. It is for every media outlet to decide whether they should send journalists in some particular place, and it is also the issue of general security. There cannot be an order to work or not to work, this has to be decided by independent mass media," Valentina Matviyenko was quoted as saying by Interfax.
"We cannot leave a vacuum there, we have to receive objective information from our journalists, not use the information imposed on us by other sources," she added.
Later on Wednesday Ukrainian security services announced that Arkady Babchenko was alive and that his assassination had been staged in order to uncover a plot, allegedly by Russian security services. The journalist himself then appeared before the press and apologized for the incident before reporters and his family.
You can share this story on social media: