Duma passes bill on counter-sanctions, gives Russian govt power to impose restrictions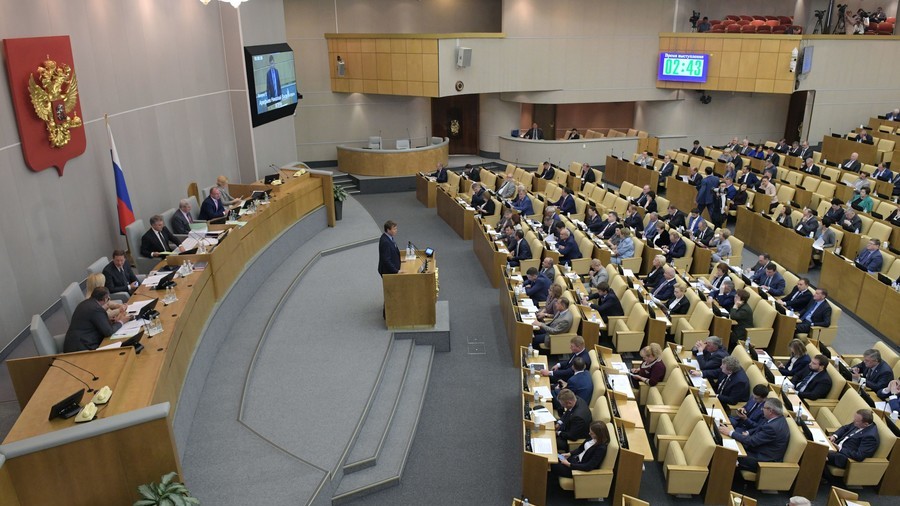 The Russian State Duma has passed a bill aimed at defending "economic interests and security" in response to the latest sanctions introduced by the United States and its allies.
The motion was drafted by State Duma speaker Vyacheslav Volodin and the heads of all four parliamentary caucuses in mid-April, days after the US Treasury Department released a list of 24 Russian citizens and 14 Russian corporations that fall under new sanctions imposed over Russia's foreign policy.
"The main objective of this federal law is to defend the economic interests and security of the Russian Federation, its territorial integrity and the rights and freedoms of its citizens, from unfriendly actions of the USA and other foreign states that impose political or economic sanctions against the Russian Federation, its citizens and companies or any other activities aimed at destabilizing Russia's politics or economy," reads the freshly approved bill.
The initial document contained a long list of proposed restrictions, such as full suspension of cooperation with US companies in the nuclear, missile and aircraft-building spheres, a ban on purchasing US securities, a trade embargo on US goods (in particular tobacco and alcohol), and the proposal to allow Russian companies to produce various goods, copyrighted in the US or in countries allied with it, without getting licenses from the rights holders.
However, the initial draft caused a lot of criticism from legal experts, mass media and general public who said that blanket bans could do more damage to Russian consumers and business partners of foreign companies. This prompted lawmakers to amend the draft with the provision that "the restrictive measures should not apply to vitally important goods that have no analogues produced inside Russia."
In addition, the State Duma excluded almost all specific measures from the final draft and allowed the president to introduce particular restrictions under plans proposed by the government. The president will also be allowed to suspend cooperation between Russia and hostile nations, organizations registered in such nations or controlled by them, either directly or indirectly.
Another proposed measure is a trade embargo on certain goods, however, that will not be extended on things imported by Russian citizens for personal use.
In mid-May independent Russian public opinion research center, Levada, released the results of a poll, according to which 78 percent of Russians have not encountered any serious problems due to sanctions imposed on their country by the US and its allies. 45 percent answered that they had acknowledged minor problems after the sanctions were imposed, but described them as not serious. Only three percent of Russians said that Western economic and political pressure had caused serious problems for them and their families.
In the same survey, 26 percent of Russians said they feel no concern whatsoever over the West's political and economic sanctions, 42 percent admitted slight, not excessive concern over the issue.
Think your friends would be interested? Share this story!
You can share this story on social media: